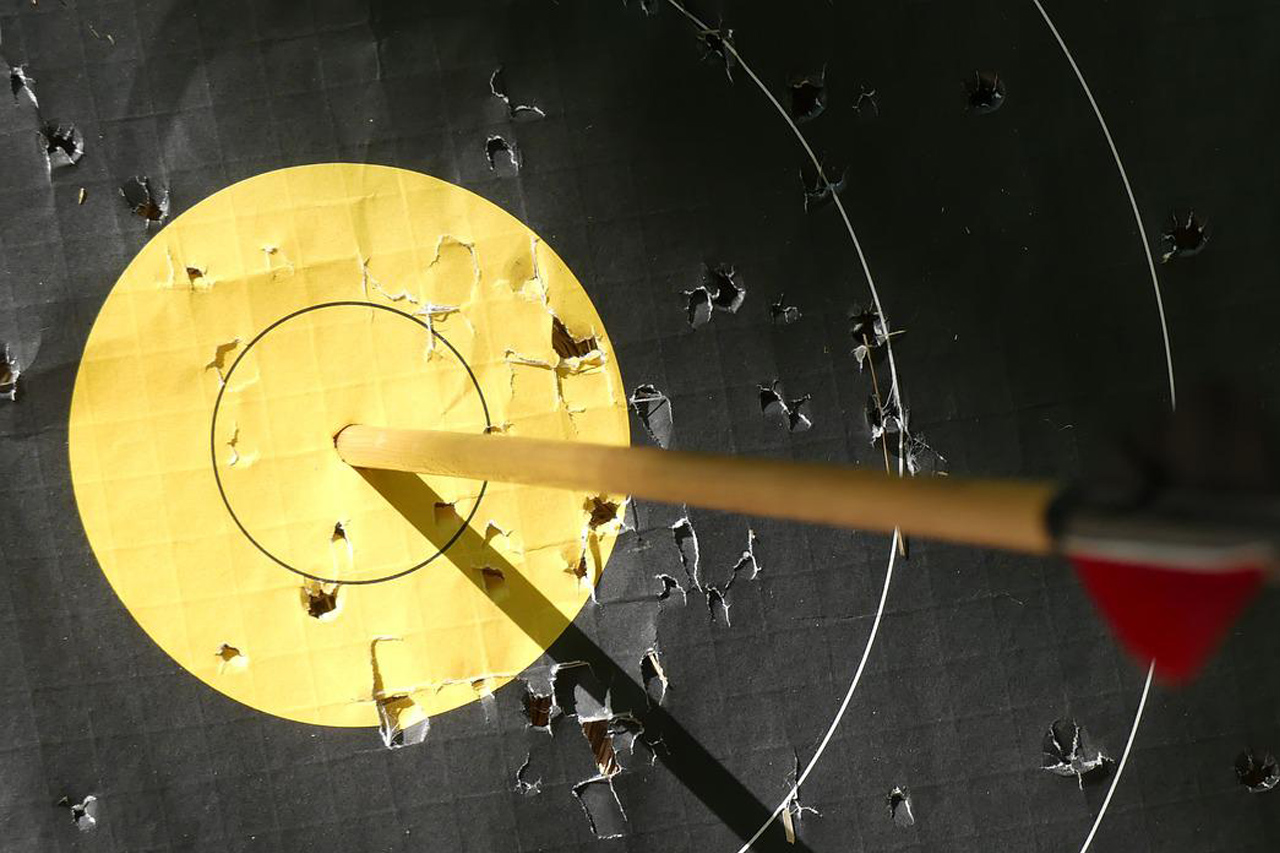 All Swhacker broadheads are good for crossbows because their engineered design delivers lethal damage and pass-through performance suitable for hunting. The brand's crossbow broadheads are ideal for even the most advanced crossbows, with over 400 fps.
During the 1990s, many bowhunting companies opened up their business to cater to the increasing demand market from bowhunters. Included in the boom in the bowhunting business is the Swhacker.
Since then, the bowhunting company has continued to produce and introduce new broadheads to its consumers. Today, Swhacker is among the most popular brands in the bowhunting industry because of the company's consistent innovation through the years.
Several bowhunters who go after big to small game hunting use their products, particularly broadheads. All broadheads produced by Swhacker have consistently proven to be suitable for crossbows.
Even if the company has special broadheads designed solely for crossbows, as being marketed, you can still opt for their regular broadheads, depending on your preference.
However, if you own a modern crossbow with high-speed performance for over 400 fps, it would be best to consider buying their Swhacker crossbow broadheads instead of their regular broadheads.
For instance, the Swhacker crossbow broadhead performed well when used for the fastest crossbow in the market, the Scorpyd Nemesis, which has 480 fps. Therefore, rest assured that the brand's crossbow broadheads won't fail even the fastest crossbow and those with lower speed.
Below are the reasons that make Swhacker crossbow broadheads the perfect product to consider to aid you in your crossbow hunting:
Has time-tested two-cut technology that delivers pass-through performance and better penetration power
Engineered to utilize current high-performance crossbows
Ensures quick by providing devastating lethal damage to the target's internal organs and circulatory system when shot, resulting in short blood trailing
Designed to match high-speed crossbows
Aerodynamic and mechanical broadheads perfect for hunting
Features removable blades
Provides consistent, accurate shots
Aside from the reasons mentioned, Swhacker crossbow broadheads are all available in three different weights:
100 grain featuring a 1.75-inch cutting diameter
120 grain featuring a 2-inch cutting diameter
150 grain featuring an ultra-wide 3-inch cutting diameter
As a result, finding the correct broadhead weight ideal for your crossbow won't be an issue if you choose to buy from Shwacker.
Here are the following top three Shwacker crossbow broadheads you might want to consider purchasing:
Swhacker SWH00207 #207 2 Inch Cut Broadheads

Swhacker SWH00207 #207 is the brand's most famous broadhead product and Amazon's sixth most popular broadhead on the website's bestseller list earning 4.8 out of 5-star ratings. It has three broadheads for each set with one practice head and weighs 0.2 pounds.

Specifications:
A unique design of two separate cutting edges
Has 100 grain expandable 2-blade broadhead
Has wing blades that cut through the target's hair, hide, bones, and dirt during entry and also cut the hide and the first set of ribs
It has main blades that do not touch anything during initial penetration, which keeps its razor-sharp edges reserved to cut internal organs when opened in the body cavity.
0.032″ thick, honed razor sharp, and stainless steel blades
Hardened high-carbon steel points
Anodized aircraft aluminum ferrules
Swhacker 4 Blade Hybrid Broadhead
Another great broadhead from Swhacker is its Swhacker 4 Blade Hybrid Broadhead. It aims to increase the entrance wound of the target upon impact, which results in increased blood trail making tracking easier.
Specifications:
It has a 1-inch fixed bleeder blade
Has four blades
Its high carbon steel chisel tip is a bone crusher
Available in 100-grain and 125-grain weight
Anodized Aircraft aluminum ferrule
It has a cutting diameter of 2.25."
Swhacker 4 Blade Hybrid Broadhead earned 4.3 out of 5 stars on Amazon and weighed only 0.15 pounds.
Swhacker RAZOR #252 Fixed Blade Broadheads
If you are searching for a fixed blade broadhead for your crossbow instead of a mechanical one, you might consider choosing Swhacker RAZOR #252 Fixed Blade Broadheads.
Specifications:
It comes in a pack of three fixed broadheads.
Its main blade has a 1.5″ cutting diameter.
Solid 420 stainless steel blades featuring 0.065 thickness, over twice the thickness of other fixed blade broadheads on the market.
Laser-cut independently ground and hand-stropped to shaving-sharp perfection.
Features additional bleeder blade
Offers different blade pitches with the following degrees: 35, 54, and 59 degree
Available in 100 and 125-grain
Moreover, it belongs to Swhacker's Razor Series of fixed blade broadheads, ideal for big game hunting where maximum penetration is vital.
Besides the top three Swhacker broadheads indicated above, there are a variety of selections you can find that the brand produced and will continue to do so in the future.
Thus, if you are looking for a good broadhead product for your crossbow, don't forget to see what Swhacker offers.
Do Swhacker broadheads fly like field points?
Swhacker successfully produces the best flying broadhead products archers can find in the market because of their extensive effort to replicate the flying behavior of field points to their broadheads. Thus, you can expect Swhacker broadheads to fly similarly to field points.
Every brand has its twist and turns on how it can effectively sell its products in a competitive market, such as bowhunting and target archery.
In this rapidly ever-changing world, it is no wonder Swhacker has its innovative approach on what type of broadheads to produce that cater to the demands of its consumers.
As a leading broadhead product manufacturer for decades, Swhacker stepped up its game further by catering to one of the challenging demands from hunters: broadheads that fly like field points.
Thanks to the brand's diligent and exceptional effort, hunters now have a better advantage in shooting their prey if they use Swhacker broadheads. However, some may wonder why there is a high demand for finding broadheads that fly like field points.
Broadheads and field points aren't similar other than their supposed function. Among the defining differences is that broadheads don't fly straight compared to field points. To help you understand better, below are a more detailed description of what sets them apart:
Field points

Unlike broadheads, field points are fit for target practice and aren't an excellent choice for hunting. The field points allow you to easily withdraw your arrow from the target because of its narrow shape design and tinier entrance holes.

Their thin shape and aerodynamic design are the main reason that allows them to fly straight, making them ideal not only for target practice but also for bow tuning and archery contests.

Even though field points' form allows them to fly straight, it hinders them from delivering lethal damage to the targets, which is an essential aspect of hunting. Take note that you must incur enough damage to your target for an ethical single-shot kill.

There is no way you would want to use field points for hunting because it essentially defeats your purpose for a successful hunt.

Broadheads

On the contrary, broadheads are specifically for hunting because they can inflict massive wounds because of their flatter and broader blades.

Unlike field points, broadheads shoot significantly quicker and are incredibly sharper, making them perfect even for big game hunting animals like elk and moose. If you compare the two, field points cannot deliver a quick kill as broadheads do.

However, the broadhead's flight pattern left hunters scratching their heads. Compared to field points that fly straight, broadheads have a steering effect that causes the arrows to drift off course.

Due to their wider blades, they generate more friction which makes the arrow more sensitive and ends up not flying straight towards the target.

For instance, before your arrow can exit the bow, the broadhead's blade is already catching air which can be very challenging, especially when it's windy because the percentage of the arrow drifting off course is higher.

Thus, it results in accuracy issues that lead hunters to demand broadheads that fly like field points to avoid inaccuracy.

Luckily, Swhacker recognized this market demand and took the lead in developing such broadheads. Below are the features that make Swhacker broadheads fly like field points:
The aerodynamic design assures consistent field point accuracy, shot after shot.
Reduced drift
Low profile design
Each broadhead pack comes with a practice broadhead enabling users to test fly it against a target and compare it with a standard field point.
Therefore, choosing to use Swhacker broadheads for the hunting season won't disappoint because they fly straight as field points do and, at the same time, inflict lethal damage to the target animal.
What is the best broadhead to use with a crossbow?
The best broadhead to use with a crossbow depends on the person's preference, crossbow model, and on type of animal to hunt. Wasp Sledgehammer is the best for hunting large game animals, while Slick Trick RaptorTrick X is perfect if you are hunting whitetail deer.
Finding the best crossbow broadhead isn't as simple as choosing between black and white. Due to a wide array of broadhead products available in the market, it isn't easy to pinpoint which one would work well for all hunters.
Therefore, certain factors influence what makes a crossbow broadhead the best among the rest. Selecting the best crossbow broadhead depends on personal preference, the crossbow model you own, and the kind of animal you will be hunting.
Here are the best broadheads based on the kinds of animals you will be hunting to help you make an informed decision:
Elk, moose, and other large game hunting animals

Wasp Sledgehammer Crossbow SST Broadhead is the best crossbow broadhead if you plan to join big game hunting, including moose, elk, bear, etc. Its design is specifically for crossbow hunters desiring a heavier broadhead front for increased penetration.

With a heavy broadhead front weighing 150 grains of stainless steel, it is ideal for crossbow hunters seeking high FOC and high arrow momentum.

Wasp Sledgehammer Crossbow SST Broadhead's compact design promises absolute accuracy and enables you to replace dull blades with new razor-sharp ones. It also features a cutting diameter of 1″ and a three-blade design with Trocar Tip edges.

Another great feature of the Wasp Sledgehammer Crossbow SST Broadhead is its Field Point Accuracy which many hunters want.

Whitetail deers

If you are looking forward to hunting whitetail deers and don't know which crossbow broadhead to consider, Slick Trick RaptorTrick X is the best in the market and the crossbow version of the notorious RaptorTrick.

It is a mechanical stainless steel broadhead with the Slick Trick signature series that stands out from the rest. You'll be glad to know that its design is specifically for the fastest crossbows with speeds exceeding 400 fps.

Slick Trick RaptorTrick X's tested deployment system ensures that its blades remain locked while in flight until impact. It also has a 2″ cutting diameter and 0.035 thick stainless blades.

Like the Wasp Sledgehammer Crossbow SST Broadhead, Slick Trick RaptorTrick X also offers Field Point accuracy. You can also notice its bone-splitting 4-edge tips for an increased blood trail.

Besides the two main broadheads mentioned, you might also want to take a look at these premier excellent crossbows if those two don't work well with your crossbow or don't suit your preference:
Best fixed blade broadheads:
Slick Trick XBow Crossbow Broadhead

Best mechanical blade broadheads:

Before giving up and randomly buying broadheads, it would be best to go over the best broadhead models enumerated above to narrow down your search better. Consider your crossbow model and discern whether you prefer fixed or mechanical blade broadheads to make better decisions.

Swhacker broadheads have long stipulated their excellence in the hunting market for years. It is no wonder that even crossbow hunters include Swhacker among their list of the most outstanding broadhead manufacturers.

Thus, you can guarantee that Swhacker will likely exceed your expectations regarding crossbow hunting.