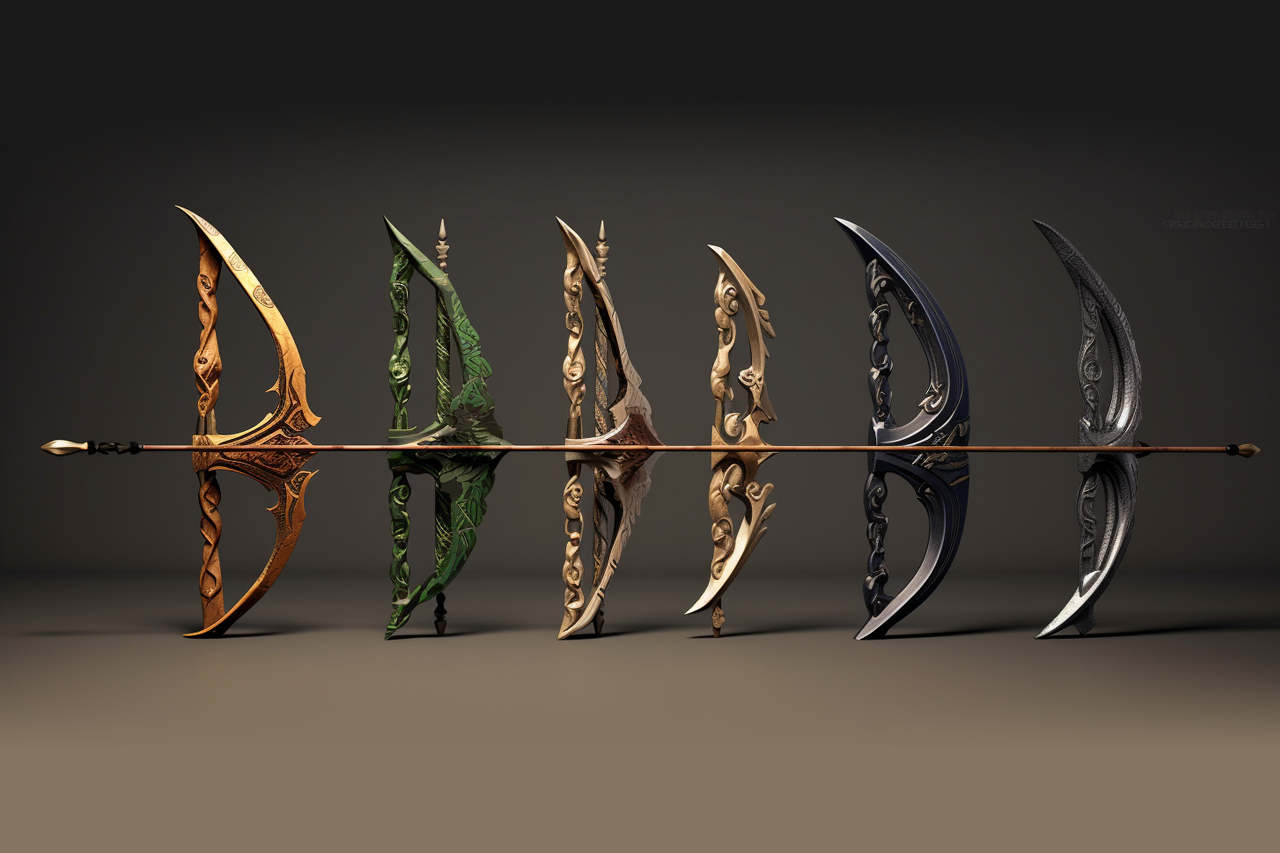 Choosing the right bow can make all the difference in your performance if you're a professional archer. With so many options on the market, deciding which is best for you can be overwhelming. That's why we've compiled a list of the five best bows for professionals based on their unique features and benefits.
From traditional longbows to modern compound bows, this list has something for every type of archer. Whether you prefer a classic style, modern precision, power, distance, or competitive performance, we've got you covered.
So read on to discover the top picks for professional archers and find the perfect bow to take your skills to the next level.
Traditional Longbows for Classic Style
You'll love the classic style of traditional longbows, perfect for professional archers looking to embrace the timeless elegance of this ancient weapon.
These bows are made from a single piece of wood and do not have any modern attachments like sights or stabilizers. They require skill and precision to use effectively but offer a rewarding experience for those who master them.
The Bear Archery Montana Longbow is one of the best traditional longbows on the market. It's made from durable hardwoods with reinforced tips and comes in various draw weights to suit your needs. This bow has a smooth draw and offers excellent accuracy at longer distances.
Another great option is the Martin Savannah Stealth Longbow. It features a sleek black finish with handcrafted limbs and an ergonomic grip for comfort during extended shooting sessions. The Savannah Stealth also includes pre-installed brass inserts for attaching accessories if desired.
For those seeking a more customizable option, check out the Greatree Archery Osprey Longbow. You can order this bow in different lengths, weights, and wood types to make it unique to your preferences. The Osprey also boasts exceptional speed and power while maintaining a quiet shot for hunting or target shooting.
Overall, traditional longbows provide an authentic archery experience that connects you with history while honing your skills as a professional archer.
Their simple design and natural materials offer uncompromised performance without relying on modern technology or gadgets.
Compound Bows for Modern Precision
Utilizing a compound bow can provide optimal results for achieving modern precision in archery. Compound bows are known for their innovative design and advanced technology, which makes them perfect for professional archers who want to take their accuracy and speed up a notch.
Compound bows' great features are the cams or wheels on either end of the bow's limbs. This help reduces the amount of holding weight required by the archer, thus making it easier to aim, hold steady, and shoot with greater accuracy.
Additionally, compound bows also have adjustable draw lengths that allow you to customize your shooting experience according to your body type and preferences.
Another advantage of using a compound bow is its power stroke which refers to the distance an arrow travels from the rest position until it reaches full draw length. It helps increase arrow speed and kinetic energy, resulting in higher penetration power when hitting targets at longer distances.
When looking for a high-quality compound bow, checking factors such as draw weight range, axle-to-axle length, brace height, and let-off percentage is vital.
These elements impact the overall performance of your bow and its compatibility with different types of arrows. So be sure to research before investing in one that suits your needs best.
If you're looking for modern precision in archery, then a compound bow is worth considering. With impressive features like adjustable draw lengths, powerful cams/wheels, and customizable settings – these bows offer excellent accuracy and speed that will make any professional archer proud!
Check out these +70 Compound Bows for Modern Precision.
Recurve Bows for Versatility
Recurve bows offer a versatile option to add a touch of traditional elegance to shooting style with their long, graceful limbs and curved design.
These bows are popular among professional archers who want to test their skills in different environments. The unique design of the recurve bow allows you to use it in various settings, such as field archery, target practice, and hunting.
The versatility of the recurve bow is due to its ability to customize according to an individual's needs. Archers can adjust the bow's draw weight and length, making it more comfortable for them when shooting. This level of customization ensures that each shot is accurate and precise.
One significant advantage of the recurve bow over other types of bows is its portability. Their simple design allows them to be easily disassembled and transported from one location to another without requiring much space or special equipment.
This feature makes them ideal for those who like to travel or participate in outdoor activities.
Using a recurve bow requires skill, technique, and patience, essential traits for any professional archer looking to improve their craft.
It forces an archer to rely on their abilities rather than on advanced technology or complicated gadgets, which can sometimes hinder progress.
In summary, a recurve bow provides an excellent opportunity for professionals looking for an elegant yet versatile option while honing their skills without sacrificing accuracy or precision.
Crossbows for Power and Distance
Crossbows offer a unique option for those seeking more power and distance in their shooting with its innovative design and technology.
Here are some reasons why crossbows are worth considering:
Crossbows can shoot arrows faster than traditional recurve bows, giving you greater accuracy and range.
The horizontal layout of the bow makes it easier to aim and hold steady, reducing the amount of movement that can throw off your shots.
Many crossbows come equipped with scopes or other sighting aids, which can help you hit your target more consistently.
Because they require less physical effort than other types of bows, crossbows are a great choice for people with limited strength or mobility.
Of course, there are some downsides to using a crossbow as well. They tend to be heavier and bulkier than other types of bows, which could make them harder to carry around if you're planning on doing a lot of hiking or hunting.
Additionally, because they rely on mechanical parts (such as pulleys or cams) to draw the string back before firing, there is always the risk that something could go wrong with those components.
If you're looking for raw power and long-distance accuracy in your archery practice or hunting expeditions, a crossbow might be just what you need. Just make sure to do your research before investing in one so that you can find a model that's right for your needs and abilities.
Olympic Style Bows for Competitive Performance
If you're looking to take your archery skills to the next level, Olympic-style bows offer a competitive edge with their specialized design and advanced technology.
These bows are specifically designed for use in target shooting competitions and are favored by professional archers worldwide.
One of the defining features of Olympic-style bows is their long length, which allows for greater stability and accuracy when aiming at targets. They are also extremely lightweight, making them easy to handle and maneuver during practice sessions or competitions.
Another advantage of an Olympic-style bow is its adjustable draw weight, which allows you to fine-tune your aim based on different environmental factors such as wind speed or distance from the target.
This feature can be especially useful in outdoor competitions where weather conditions can affect your shot accuracy.
Lastly, these bows come with additional accessories that can help improve your overall performance. From stabilizers that reduce torque and vibration to sights that help you aim more precisely, many tools can give you an extra edge in competition.
If you're a professional archer looking to improve your performance in target shooting competitions, an Olympic-style bow may be just what you need.
With their specialized design and advanced technology, these bows offer unparalleled accuracy and control that can make all the difference when hitting those bullseye shots.
Factors to Consider When Choosing a Bow
When deciding on a bow, it's important to take into account factors such as your skill level, intended use, and budget. Here are five factors you should consider:
Draw weight: This refers to the amount of force required to draw back the bowstring. Choose a draw weight that you are comfortable with without straining yourself.
Bow length: Longer bows are more stable and accurate but are heavier and harder to maneuver. Shorter bows are lighter and easier to carry but may sacrifice some accuracy.
Axle-to-Axle length: This is the distance between the two axles on the bow. A longer axle-to-axle length will provide more stability, while a shorter one will be more compact and easier to carry.
Cam system: The cam system determines how much energy is stored in the bow when it's drawn back. Single cams are smoother and require less maintenance, while dual cams offer greater speed and accuracy.
Once you've considered these factors, it's time to try out different bows for yourself. Visit a pro shop or range to test other models before deciding.
Remember that choosing the right bow is crucial for achieving success as an archer, so take your time and choose wisely!
Frequently Asked Questions
What is the average lifespan of a bow?
The average lifespan of a bow varies depending on the quality and maintenance. A well-made bow that is taken care of can last for decades, while a poorly made one may only last a few years.
However, every bow will eventually wear out or break even with proper care and maintenance. Factors such as frequency of use, type of string used, and exposure to extreme temperatures can also affect the lifespan of a bow.
As an archer, it's important to regularly inspect your equipment for any signs of damage or wear and replace any worn-out parts to ensure maximum performance and safety.
Can left-handed archers use the same bows as right-handed archers?
Yes, left-handed archers can use the same bows as right-handed archers. However, they need to ensure that the bow is designed for their dominant hand or can be adjusted accordingly.
If you are a left-handed archer, look for a bow with a left-handed grip and arrow rest, or find one you can easily convert. It's important to note that using a bow with the wrong grip orientation can lead to discomfort and even injury.
So, always ensure your equipment suits your needs before aiming, whether left or right-handed.
How important is arrow weight when choosing a bow?
When choosing a bow, arrow weight is an important factor to consider. It affects not only the speed and accuracy of your shots but also how much energy is required to draw the bowstring.
Lighter arrows generally fly faster, but heavier ones can hit harder and have better penetration. Ultimately, the ideal arrow weight depends on your preference and the shooting you plan on doing.
For target shooting, lighter arrows may be preferred for their speed and precision, while heavier arrows may suit better for hunting or outdoor shooting where deeper penetration is needed.
Regardless, choosing a bow that can handle the weight of your arrows without sacrificing performance or safety is crucial.
Do different types of bows require other maintenance procedures?
Different types of bows do require other maintenance procedures. For example, a compound bow has a complex system of cams and strings that need regular tuning to ensure proper function.
On the other hand, a traditional recurve bow requires less maintenance but needs to be checked for any signs of damage or wear on the limbs and string.
It is important to read the manufacturer's instructions carefully and follow their recommended maintenance schedule. Regularly inspecting your bow for any signs of damage or wear can help prevent accidents while shooting and prolong the life of your equipment.
Remember to keep your bow clean and store it in a dry place, away from extreme temperatures, when not in use.
Are there any legal restrictions on using certain bows for hunting or competition?
Legal restrictions exist on using certain types of bows for hunting or competition. The regulations vary by state and country, so it's important to research the laws in your specific location.
For example, some states have minimum draw weight requirements for hunting bows, while others prohibit using certain archery bows altogether.
Some competitions may also have specific rules regarding the type of bow allowed, such as only allowing traditional recurve bows or compound bows with a certain amount of let-off.
It's crucial to adhere to these regulations to ensure a safe and fair experience for all involved.
Here is a list of +600 archery bows that professional archers use.