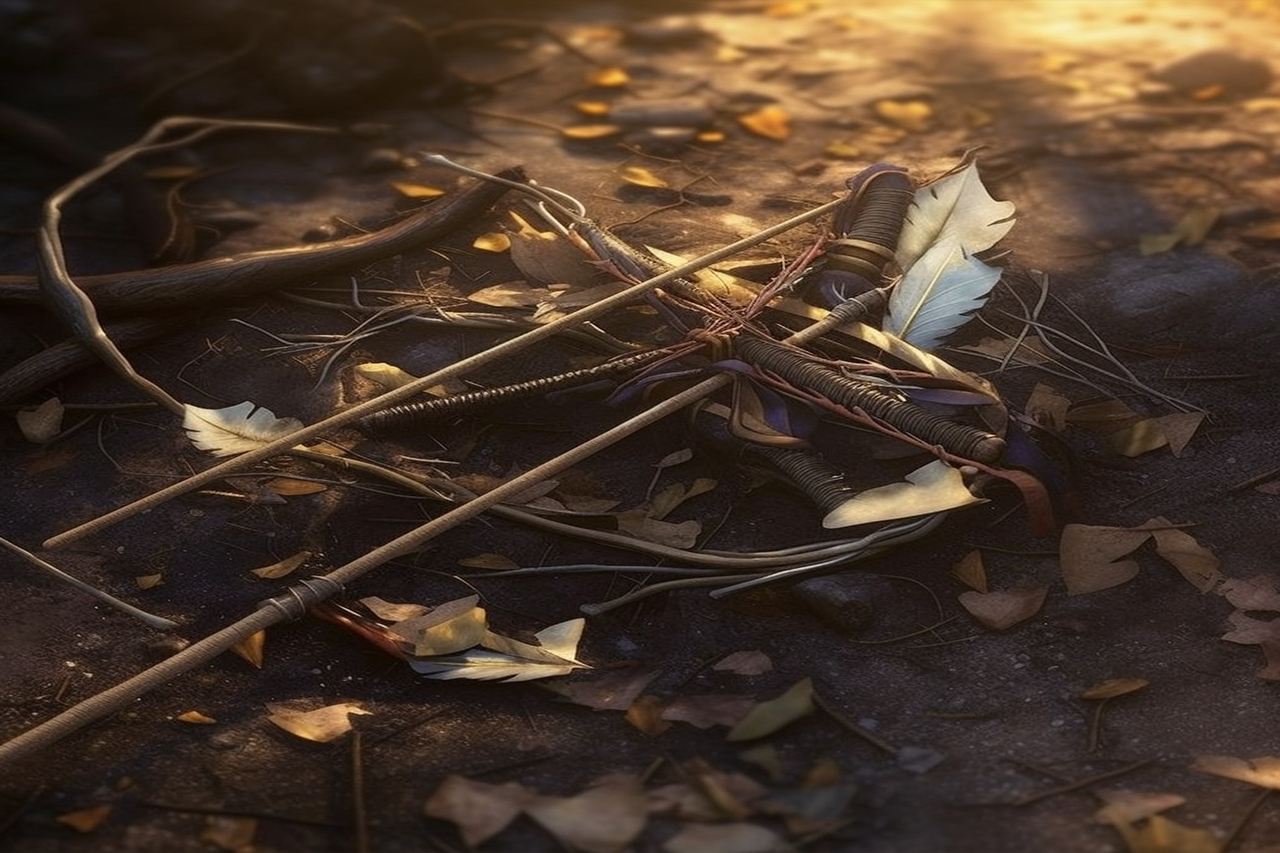 Are you curious about the risks of dry-firing a bow? Understanding what happens when you pull back on the string without an arrow is important. This action can lead to serious damage to your bow and potential harm to yourself and others nearby.
It can cause a crack or break completely, rendering your bow useless. You may also damage the riser and string from the sudden force.
To prevent these problems, you must avoid accidental dry firing and know how to repair your bow if it does happen.
Understanding the Risks of Dry Firing a Bow
If you dry Fire a bow, you're risking serious damage to the bow, including cracks and even complete collapse. The dry firing means pulling the bowstring back and releasing it without an arrow.
This action sends the drawn string's energy into the bow's limbs, which are not designed to withstand such force without an arrow present.
When you release a bowstring with no arrow attached, all that stored energy has nowhere to go but back into the limbs of your bow. It can cause significant stress on your equipment not intended for this type of force. The result can be cracks or catastrophic failure of your bow's limbs.
The most common reason for the dry firing is forgetting to load an arrow before drawing back and releasing the string. However, dry-firing bows may be a way to test their strength or durability.
In either case, it's important to remember that dry firing carries significant risks that could result in costly damage or injury.
Never dry fire your bow if you want it to last longer and avoid unnecessary accidents or expenses. Always load an arrow properly before drawing back and releasing the string.
By following these simple rules, you'll ensure the safe use of your equipment while achieving maximum performance every time you aim at your target.
Damage to the Bow's Limbs
Damaging the limbs of a bow is a possible outcome when firing without an arrow. The bow limbs are the most important part of the bow, as they store and release energy to propel arrows forward.
When you dry Fire the bow, no arrow absorbs that energy, so it goes back into the limbs. It can cause a crack or break, rendering your bow useless.
The damage caused by dry firing a bow isn't always immediately visible. Small cracks or fractures may appear in the limbs over time due to repeated stress from dry firing.
You might notice these small defects once they become large enough to compromise the structural integrity of your bow.
If you're lucky, only one limb will be damaged when you Dry Fire your bow. However, it's also possible for both limbs to suffer damage at once. This damage is much more severe and usually results in a complete loss of function for your bow.
Damaging the limbs of your bow through dry firing is a serious issue that you should avoid at all costs. Not only can it ruin your equipment, but it can also result in injury if you continue to use a compromised weapon.
Risks to the Bow's Riser and String
Always use proper form when drawing and releasing the arrow to avoid potential risks to your bow's riser and string.
Dry firing a bow can cause significant damage to the riser and string due to the sudden release of energy that an arrow typically would have absorbed. The force generated from dry firing can cause the limbs to twist, leading to cracks or fractures in the riser.
Additionally, the dry firing of a bow can put immense strain on the bowstring. Instead, the energy that you would transfer into an arrow is released directly onto the string, which can cause it to snap or fray.
It renders your bow unusable until you repair it and poses a risk of injury if anyone stands too close at the time of failure.
It's worth noting that some bows are more resilient than others when dry firing. However, regardless of whether your specific model is more tolerant, you should never intentionally dry Fire your bow as it puts unnecessary stress on all components involved in generating power for each shot.
Drying firing a bow poses significant risks for its limbs, riser, and string. Always use proper technique when handling your equipment, and never intentionally release without an arrow nocked on your bowstring.
Doing so will help ensure you get many years of safe use out of your investment in archery gear.
Dangers to the Archer and Others
When shooting your bow, always be aware of the potential danger to yourself and those around you. Dry firing a bow can lead to serious injury or even death. The risks associated with dry firing are numerous, and you should not take them lightly.
One of the primary dangers of dry firing a bow is the potential for the arrows to shatter upon release. When you fire an arrow from a properly strung bow, it travels smoothly down the path created by the string and limbs.
However, when you dry Fire a bow, the energy that would normally propel an arrow is released into the bow. This sudden jolt can cause limbs to snap or twist, leading to splintered wood.
Another risk associated with dry firing a bow is damage to your eyesight. When you release a bowstring without an arrow in place, it can whip back toward your face at high speeds. It can cause serious eye injuries or even blindness if you wear improper protective gear.
Lastly, there is also the risk of harm to anyone nearby during a dry fire incident. Limbs and other bow parts can fly off at high velocities, potentially causing injury or property damage. It's important always to practice safe shooting habits and never shoot a bow without proper precautions.
Dry firing a bow should never be attempted under any circumstances. The risks associated with this dangerous practice far outweigh any potential benefits or convenience it may offer.
Always follow proper safety protocols when handling bows and arrows to ensure your safety and that of others around you.
Preventing Accidental Dry Firing
Always double-check that an arrow is in place before releasing the string to prevent accidentally dry firing your bow. This step can save a lot of trouble, as dry firing can cause severe damage to both the bow and the archer. Additionally, it's important to never draw the bow beyond its maximum limit, as this can also result in dry firing.
Another way to prevent accidental dry firing is by using a release aid. It is a mechanical device that attaches to the string and allows you to release it with minimal movement.
By using one of these aids, you reduce the risk of accidentally releasing the string without an arrow in place.
Furthermore, you must inspect your equipment regularly for any wear or damage. Cracks or splits in the limbs or strings can weaken and increase the risk of dry firing. If you notice any damage, stop using your bow immediately and have it inspected by a professional.
Preventing accidental dry firing should be taken seriously by all archers. By following these simple steps – checking for arrows before releasing the string, not drawing beyond maximum limits, using a release aid if necessary, and inspecting equipment regularly – you can ensure safe shooting practices and protect yourself from injury while prolonging the lifespan of your bow.
Repairing a Bow After Dry Firing
You can repair your bow after accidentally firing it without an arrow by taking it to a professional archery shop for inspection and potential repairs. Dry firing a bow can cause significant damage, such as limb fractures, string breakage, and cam damage. These damages may not be visible to the naked eye but could significantly affect the performance of your bow.
When you take your bow to a professional archery shop, they will inspect it thoroughly for any damages or defects caused by dry firing. They will also check if the limbs are still aligned correctly and that the riser has no cracks or ruptures.
The technician will use specialized tools such as a drawing board and tension meter to restore your bow to its original state.
If your bow has suffered severe damage from dry firing, the technician may recommend replacing some parts completely. For instance, if the string has snapped due to dry firing, replacing it with a new one is essential since using a damaged bowstring could lead to further accidents or injury.
Repairing a bow after dry firing requires technical expertise and specialized tools only professionals possess. Taking your damaged bow to an archery shop is crucial since they have experience dealing with different types of bows and know what kind of repairs each specific issue requires.
With proper care and maintenance practices coupled with regular inspections at an archery shop, you can prevent accidental dry-firing from occurring in the future while extending the lifespan of your hunting gear.
Frequently Asked Questions
Can dry firing a bow cause any long-term damage to the bow's structure?
Dry firing a bow can cause significant damage to its structure. The force generated by releasing the string without an arrow can lead to the limbs bending or even breaking, which may render the bow useless.
It is important to understand that a bow handles the energy created by pulling back and releasing an arrow. Without an archery arrow, this energy has nowhere to go but back into the archery bow, causing potential harm.
Therefore, it is crucial never to dry Fire a bow as it could result in costly repairs or replacement of the entire bow. Always ensure an arrow is securely in place before drawing and releasing the string.
How often can you Dry Fire a bow before it becomes irreparably damaged?
Dry firing a bow can cause irreparable damage to its structure. The number of times you can dry Fire before it becomes damaged depends on various factors, such as the type of bow, its draw weight, and the quality of materials used in its construction.
However, it is important to note that even one instance of dry firing can cause significant damage to the bow's limbs or string. Therefore, always use an arrow when shooting a bow and never Dry Fire it to avoid any potential damage.
Are there any signs to look out for to determine if a bow has been dry fired before?
There are several signs to look out for to determine if a bow has been dry fired before. One of the most obvious is visible limb or riser damage, such as cracks or splintering.
The string may also show wear and tear, including fraying or stretching. Additionally, the bow may produce a different sound when fired than before being dry-fired.
It is important to note that even if no visible damage is present, a bow that has been dry-fired can still suffer from internal damage that may not be immediately apparent.
Therefore, avoid dry firing a bow whenever possible to prevent potential harm to the equipment and the archer.
Can a bow that has been dry fired be used safely after being repaired?
If a bow has been dry fired, it can be difficult to determine the damage done. However, even if it seems minimal, using the bow without first having it inspected and repaired by a professional is not safe.
Attempting to use a bow that has been dry fired could result in further damage or even injury to the shooter. If you dry fire it, it is important to bring it to an experienced technician who can assess the damage and perform any necessary repairs before it is safe for use again.