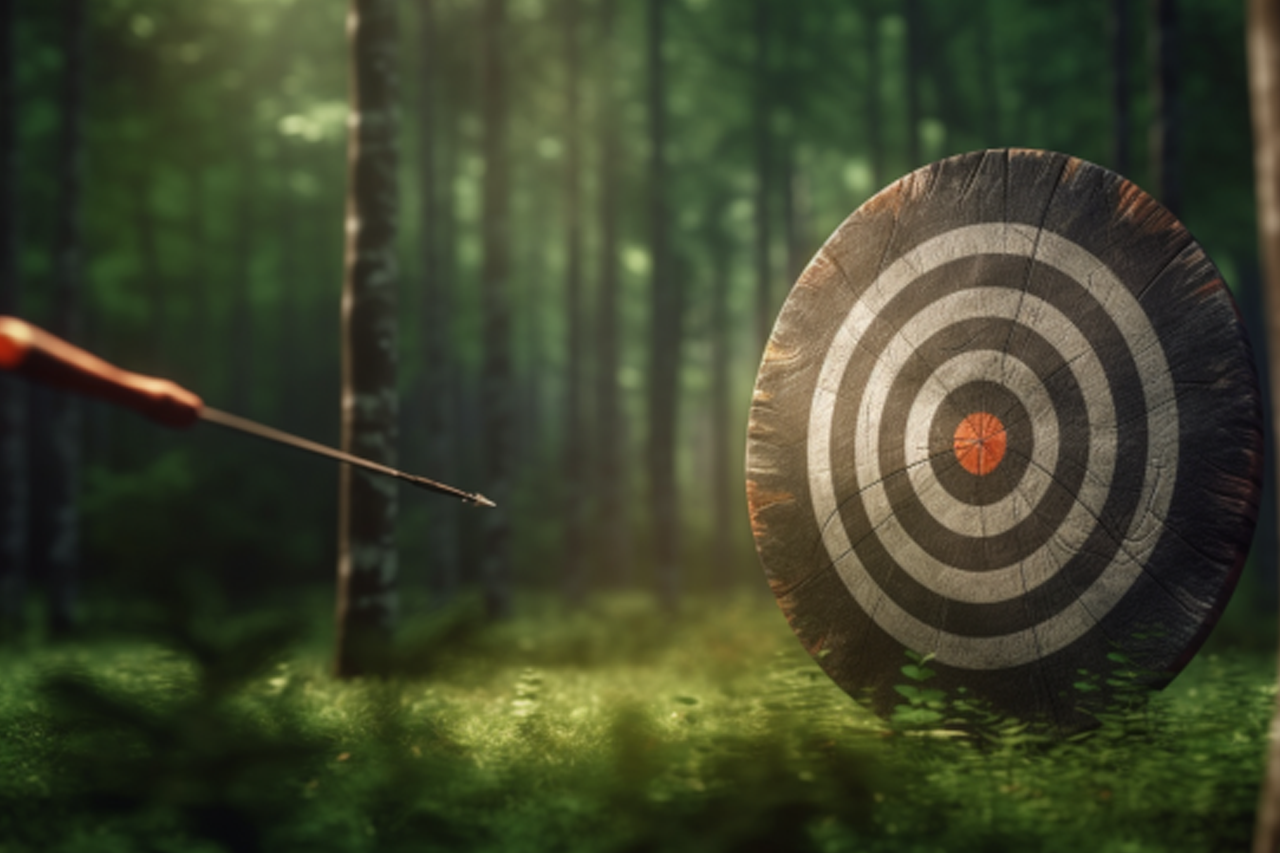 Are you an archery enthusiast looking to improve your performance? Then you know that the speed of your arrow can make all the difference in hitting your target.
From ancient bows made of wood and sinew to today's high-tech composite materials, the history of archery is marked by a constant pursuit of greater velocity.
We will explore the fascinating world of arrow speed in archery, delve into the mechanics behind arrow acceleration, examine how technology has revolutionized archery equipment, and discuss safety considerations for high-speed arrows.
Whether you're a seasoned competitor or a beginner just starting, understanding arrow velocity's importance is essential for success in this dynamic sport.
A Brief History of Arrow Speeds in Archery
You might be surprised to learn that in the past, archers didn't have access to the lightning-fast arrow speeds that are commonplace today.
Early bow and arrow technology were quite primitive compared to what we use now. Arrows were often made from wood or bone and had relatively low velocities due to their weight and shape.
Over time, the bow design and arrow materials have improved. The introduction of metal arrows allowed for greater durability and increased velocity.
Additionally, advancements in bow-making techniques led to more powerful bows capable of delivering faster arrows. Today's modern compound bows can shoot arrows at speeds exceeding 300 feet per second, making them more accurate and lethal than ever before.
The Importance of Arrow Velocity in Target Shooting
When aiming for your target, focusing on how fast your arrow travels is crucial. Arrow velocity plays a significant role in ensuring you hit your target accurately and consistently.
Here are some reasons why arrow velocity is essential in target shooting:
Greater speed means less time in the air: The faster the arrow travels, the less time it spends in the air, reducing the likelihood of it being affected by factors such as wind or other environmental conditions.
Improved accuracy: Faster arrows tend to be more stable and travel straighter than slower ones, making them easier to aim at targets over long distances.
Better penetration: Arrows with higher speeds can penetrate deeper into targets, increasing their stopping power.
Understanding and monitoring arrow velocity is an important aspect of successful target shooting. You can achieve greater accuracy and consistency when aiming at targets by improving your arrow's speed through techniques such as bow tuning or selecting optimal equipment choices.
Understanding the Mechanics of Arrow Acceleration
As an archery enthusiast, it's fascinating to learn the intricate mechanics behind how an arrow propels toward its target. Arrow acceleration is a complex process that involves several factors, such as the bow's draw weight, string tension, and release timing.
The initial force that propels the arrow comes from flexing the bow limbs as they straighten out. This stored energy in the bow limbs is transferred to the arrow when you release it.
Once released, momentum takes over and accelerates the arrow forward until it reaches its maximum velocity. This momentum creates a combination of forces acting on the archery arrow, including air resistance, gravity, and friction between the arrow shaft and bowstring.
The air passing over and under the fletchings or vanes on your arrows creates a lift that helps stabilize your shot while reducing drag on them.
Understanding these mechanics can help you improve your accuracy by allowing you to make the right decisions about things like draw weight and string tension based on your individual needs as a shooter.
Knowing how an arrow accelerates toward its target requires an appreciation for physics and equipment design. When properly executed, this process results in quick-moving arrows capable of accurately hitting their targets, which all archery enthusiasts strive for.
By studying these important concepts carefully, you'll be able to hone your skills as a shooter while also enjoying all of the unique challenges that come with this exciting sport.
The Role of Technology in Increasing Arrow Speeds
Technology has revolutionized the sport of archery by introducing innovative equipment that enhances the accuracy and precision of shots.
One such technology is the compound bow, which uses a system of pulleys and cables to reduce the force needed to hold the bowstring at full draw. It allows archers to aim more steadily and shoot with greater speed and power.
Additionally, many compound bows have adjustable limbs that you can fine-tune for specific shooting conditions, further improving their performance.
Another technological advancement in archery is carbon fiber arrows. These arrows are lighter, faster, and more durable than traditional wooden or aluminum arrows. They also have a higher level of consistency, allowing for greater accuracy in shooting.
Carbon fiber arrows can travel up to 400 feet per second, making them ideal for long-range shooting competitions where speed is crucial.
Overall, technology has a significant role in increasing arrow speeds and improving overall performance in archery.
The Impact of Faster Arrows on Archery Competitions
Archers can hit their targets with even greater force and accuracy with faster arrows, creating an intense display of skill and precision in archery competitions. As the speed of archery arrows increases, the impact on archery competitions has become more significant.
Here are some ways faster arrows have impacted these events:
Greater accuracy: With faster arrows, archers can shoot with greater accuracy due to less time for wind or other factors to affect the arrow's flight path.
Higher scores: Faster arrows allow for better penetration which means higher scores as they can penetrate deeper into targets.
Increased range: Arrow speed has also increased the distance an arrow can travel accurately, giving competitors a wider range of options when aiming at targets.
Additionally, there is a greater emphasis on an archer's technique and form, as the slightest mistake can mean missing a target entirely. It has led to more training and practice for competitive archers, resulting in a more skilled pool of participants overall.
Overall, faster arrows have made for more exciting and competitive events where every shot counts toward success.
Safety Considerations for High-Speed Arrows
Ensuring the safety of competitors and spectators alike has become increasingly important in light of the potential dangers associated with high-speed projectiles. As arrows accelerate faster, you must implement safety measures to prevent accidents.
One important safety consideration for high-speed arrows is ensuring they wear proper protective gear by all individuals involved in archery competitions.
It includes not only the archers themselves but also any judges or officials who may be close to the shooting area. Additionally, it is important to establish clear guidelines regarding where individuals are allowed to stand during competitions and how far away they should be from the target area.
These precautions minimize the risk of injury or other accidents due to high-speed arrow impact.
Future Developments in Arrow Velocity and Archery Performance
You'll be amazed at how fast archery performance is evolving, with new developments in arrow velocity on the horizon. One such product is using lighter and stiffer materials for arrows, which can increase their speed and accuracy.
Professional archers already widely use carbon fiber arrows due to their high strength-to-weight ratio. Still, researchers are also exploring using advanced composite materials, such as graphene-reinforced polymers.
Another area of research is improving arrowhead shape and design to reduce drag and increase penetration. For example, some manufacturers are experimenting with hollow-point tips that create an air pocket around the arrow as it travels through the air, reducing its drag coefficient.
Similarly, new broadhead designs incorporate multiple cutting edges or serrated blades to enhance their cutting ability upon impact. With these exciting developments underway, it's clear that archery performance will continue to accelerate in the years ahead.
Frequently Asked Questions
What is the maximum speed that an arrow can achieve?
You can expect arrows to reach a maximum speed of around 300 feet per second, depending on factors like the draw weight of your bow and the length and weight of your arrow. However, you can achieve faster speeds with specialized equipment.
How does the weight of an arrow affect its speed?
The weight of an arrow affects its speed due to the laws of physics. A heavier one requires more force to move and therefore takes longer to accelerate, resulting in a slower overall pace.
Can arrow speed be increased without using advanced technology?
You can increase arrow speed by using a lighter arrow with a stiffer spine, reducing drag with smaller fletchings or vanes, and optimizing your bow's draw weight and length. Proper form and technique also play crucial roles in maximizing arrow velocity.
What is the ideal arrow speed for hunting?
The ideal arrow speed for hunting is typically between 280 and 320 feet per second. It allows sufficient kinetic energy to take down the game effectively while maintaining accuracy and minimizing noise.
How do different weather conditions affect arrow speed and accuracy?
Different weather conditions can affect arrow speed and accuracy. High winds, rain, and extreme temperatures can all impact the trajectory of your arrow. Adjust your aim and equipment accordingly to compensate for any environmental factors.