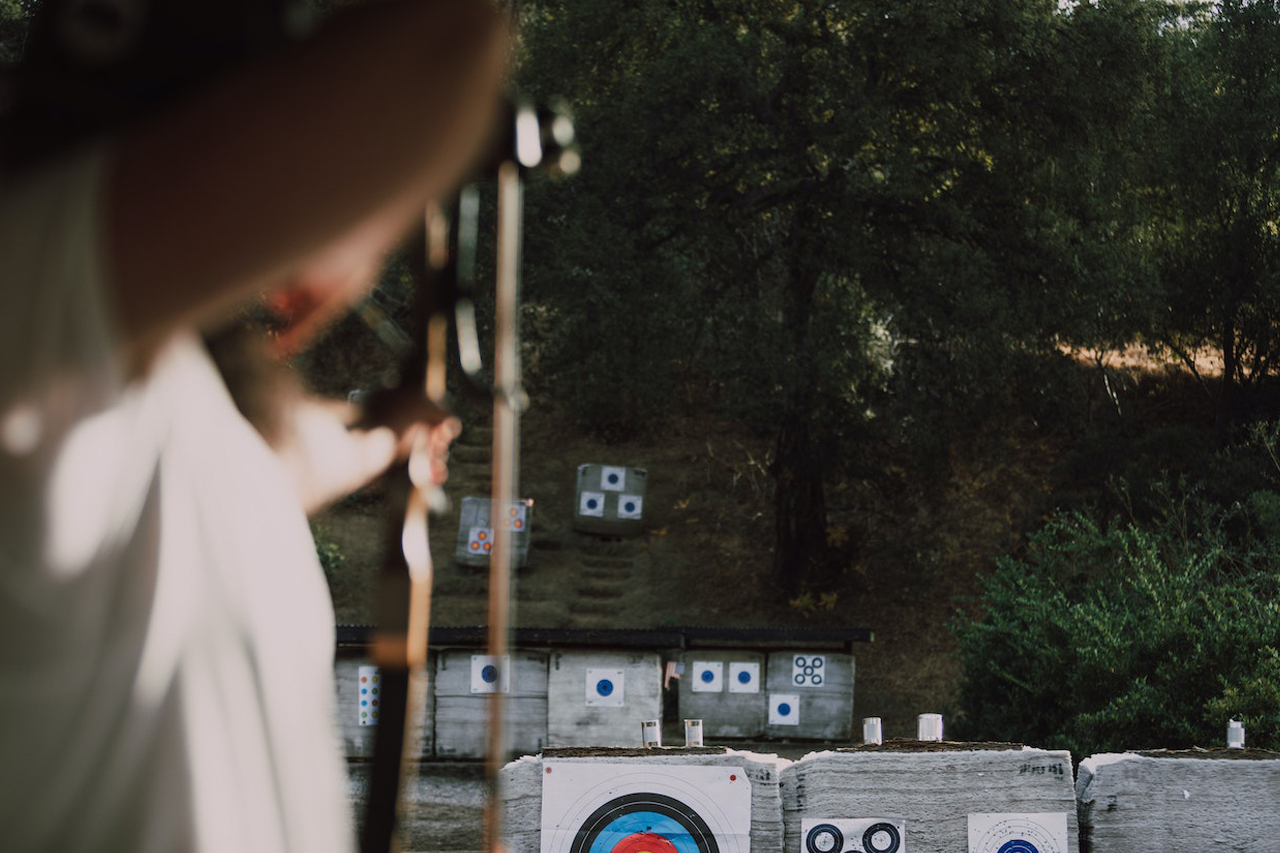 Longbows are highly accurate and can hit a target 100 yards away. Longbow shooters can achieve an accuracy rate of around 95%, primarily due to the bow's ability to stabilize the arrow in flight.
The longbow is a type of bow characterized by its length. It is typically between six and seven feet in length, which makes it much more prominent than other types of bows, such as the recurve bow or the compound bow.
The longbow is also distinguished because it is from a single piece of wood. It gives the longbow its signature curved shape. It was historically used for hunting and warfare and was trendy in England during the Middle Ages.
Archers use longbows for competitive archery, and many enthusiasts enjoy its traditional look and feel.
Factors Affecting the Accuracy of a Longbow
The longbow is a highly accurate weapon, capable of hitting targets at great distances. However, several factors can affect its accuracy.
Quality

The quality of the longbow can significantly impact the shot's accuracy. It is because the quality of the bow directly affects how stable and consistent each will be, which can substantially impact accuracy.

Higher-quality bows are typically made with more durable materials, which help to keep them in proper alignment even with repeated use. Additionally, they tend to be constructed more precisely, which helps to ensure that they remain stable when fired.

Skills of the Archer

An experienced archer who has spent years honing their skills will be more accurate than someone just starting. Their high level of skill gives them a greater degree of control over their weapon, which leads to more accurate shots.

An archer with a strong understanding of the physics behind longbow shooting will be able to apply that knowledge in ways that they shoot even more accurately.

Because they understand how different factors affect the trajectory of an arrow, the experienced archer can adjust their shots accordingly to compensate for any environmental factors that may affect the accuracy.

For example, wind can significantly impact an arrow's trajectory and reduce accuracy. An archer with a strong understanding of the physics behind longbow shooting will be able to factor these environmental conditions into their shot and will be able to hit their target more accurately.

Environment

Several environmental factors can affect the accuracy of a longbow.

Here are some of the important ones:
Temperature: Ambient temperature can affect the flight path of an arrow. In warm weather, arrows will fly faster and be more affected by wind than in cold weather.
Humidity: High humidity can cause bows to warp and arrows to stick to the target.
Altitude: Higher altitudes increase air pressure, making it harder to shoot an arrow accurately.
Wind: Gusts of wind can deflect arrows from their desired flight path.
Although many other factors can influence the accuracy of a longbow, these four are some of the most important ones.
By considering them and adjusting your shooting techniques accordingly, you should be able to improve your accuracy with this weapon. And with time and practice, you can hit even the smallest targets from great distances.
How effective is a longbow?
A longbow is a highly effective weapon when used correctly. With a long-range and excellent accuracy, it can be a deadly tool in the right hands. However, you must have good aim and arm strength to use a longbow effectively.
A longbow is a bow with a longer body than other bows, making it easier to draw and hold at full draw for long periods. It gives the longbow several advantages over other bows.
Here are a few of them:
Longbows have a longer draw length than other bows, allowing the archer to pull the arrow back further before releasing it. It gives the longbow greater accuracy, as it is easier to hit the target when you have more time to aim.
Longbows also have a higher arrow velocity than other bows due to the extra power generated by drawing back the arrow further. So it is easier to hit moving targets. It also allows the archer to penetrate armor more efficiently.
Longbows are also easier to maintain than other bows, requiring fewer parts and less upkeep, making them ideal for hunting or combat in rugged environments where other bows may not be as effective.

Overall, the longbow offers several significant advantages over other bows, making it an ideal choice for anyone looking to improve their archery skills or engage in combat with accuracy and power.
Tips to Improve Accuracy when Shooting a Longbow
Shooting accurately with a longbow takes a lot of skill and practice. To help you improve your accuracy when shooting this type of bow, here are some valuable tips to keep in mind:
Start by choosing the right arrows for your bow. Different types of longbows have different draw weights, which requires different kinds and weights of archery arrows to use effectively. Be sure to choose the appropriate archery arrows for your bow, and ensure that you have plenty of practice before trying them out on the archery range.
Before you start shooting the longbow, take some time to practice stretching your arms and shoulders so that you can get into the correct position. The key to accurate longbow shooting is being comfortable and relaxed, so take a few minutes before you start shooting to loosen up and ensure your body is ready for action.
Focus on keeping your sight steady as you shoot. When practicing at home, it can be helpful to hang a tiny target at the end of your backyard to have a clear vision when trying to hit a specific location.
If you need help with accuracy, try focusing on your breathing and posture. Breathe deeply and slowly as you draw back your bowstring, keeping your arms and shoulders relaxed throughout the process.
Be patient and practice regularly to improve your accuracy when shooting a longbow. The more time you spend on the archery range honing your skills, the better you will become.
How many shots a minute should you get with a longbow?
A longbow can shoot up to 10 shots per minute. But it depends on the skill and experience of the archer. Some bows may shoot more quickly than longbows, with some able to fire up to 20 shots a minute.
Novice archers may not achieve these speeds as they have yet to develop the skills for consistent accuracy. The longbow is a powerful and elegant weapon, capable of firing arrows with great accuracy and power.
Though it takes significant practice to master, the average person can shoot around 12 archery arrows per minute with a longbow. It makes it an ideal weapon for both hunting and warfare.
In archery, shooting speed is very important to achieve the desired outcome. Whether you are shooting at a target or an animal, you will want to ensure that your shot is accurate and fast.
Here are a few tips to help improve your shooting speed:
Make sure you have a solid foundation

When standing to shoot, be sure that both feet are planted firmly on the ground. Do not lean forward or back; this will throw off your balance and affect your shooting speed.

Use a light grip on the bowstring

If you grip the string too tightly, it will slow your release and decrease your shooting speed. Loosen your grip slightly and practice until you can shoot smoothly and quickly.

Aim with a straight arm for the fastest shot possible

Keep your arm straight when aiming. When you bend your arm, it slows down the arrow's flight time and reduces accuracy.

Shoot from a comfortable distance

Practice at different ranges so that you can feel comfortable with each one. You will need to shoot differently depending on how far away your target is, so practice at different ranges to improve accuracy.

Stay calm and focused

Be controlled and focused on your target to speed up your shot. Avoid distractions, such as noise or movement that can affect accuracy and speed.
How much strength is needed to draw a longbow?
A longbow requires a significant amount of strength to draw. Depending on the size and type of bow, it can take anywhere from 50 to 150 pounds of pressure to pull back the string. It is one reason why archers typically use longbows with many years of experience.
Additionally, since the drawing motion involves bending the bow to an extreme degree, the archer's back and arms must be strong enough to withstand the move without breaking.
It takes quite a bit of strength to draw a longbow correctly. The average longbow is about six feet long, and the draw weight – the force required to pull the bow entirely – can range from 40 to over 80 pounds.
Archers must be able to draw the bow back to achieve maximum power, Anchoring the string at a point on their face or chest known as the "anchor point." It allows them to use the full-length bow to generate power rather than just relying on their arm strength.
As a result, it takes a significant amount of upper body strength and good technique to wield a longbow effectively.
Muscles Used when Drawing a Longbow
Drawing a longbow requires strength in several different muscles, including the biceps, triceps, and latissimus dorsi.
Biceps

The biceps are a pair of muscles located in the upper arm. They are responsible for flexing and supinating the elbow, which is essential when drawing back a longbow.

Because they can become fatigued quickly, it's vital to keep your biceps strong through targeted exercises like bicep curls and resistance band work.

Triceps

A triceps are a group of muscles on the upper arm's back. They work in conjunction with the biceps to control elbow flexion and extension, and they play an essential role in holding your bow arm steady as you aim and release your arrow. To improve strength in your triceps, try exercises such as triceps dips, push-ups, and overhead presses.

Latissimus dorsi

The latissimus dorsi is a large muscle span across your upper back and midsection. It's one of the primary muscles when drawing a longbow, helping you pull back on your bowstring and maintain stability as you aim.

To improve strength in this muscle, incorporate targeted exercises like lat pulldowns, rows, and cable flies into your workout routine.
Can you hunt elk with a longbow?
You can hunt elk with a longbow. This type of bow is particularly well suited for hunting because it provides excellent accuracy and power, which are both crucial when taking down an animal as large as an elk.
In addition, the material used to make a longbow is typically very sturdy and durable, which means you can use it for many hunting trips without needing to be replaced.
The main challenge when using a longbow for elk hunting is finding an appropriate location. Elk tend to roam in large groups across wide open spaces, so you must be in the right spot to hunt them successfully with a longbow.
It's also essential to have a good understanding of how to use a longbow properly. It ensures that you can hit your target accurately, regardless of its distance or size, and provides you with all the power necessary to take down an elk quickly.
Factors to Consider when Hunting an Elk with a Longbow
You'll need to use specialized equipment and training to hunt elk successfully with a longbow.
High-quality Bow Sight

When hunting elk with a longbow, it is essential to have a high-quality bow sight. It is because having a quality bow sight will help you aim and hit your target more accurately, which is crucial when hunting such large and powerful animals.

A high-quality bow sight should have adjustable windage and elevation, reticles with etched markings for easier readability, and a durable construction that can withstand the harsh conditions of the outdoors.

By choosing a high-quality bow sight, you can ensure that your hunt is successful and that you can take home an elk for dinner.

Practice

Hunting elk with a longbow is an enriching experience and can be incredibly challenging to master. Regular practice is essential if you want to improve your skills as a bowhunter.

Many different techniques can help you become a better archer when hunting elk. For example, you can focus on shooting from difficult positions, practicing in simulated conditions, or trying new equipment. Additionally, there are many different types of archery targets that you can use to help improve your accuracy and precision when hunting an elk.

Regular practice is crucial for success, whether just starting with longbow hunting or looking to improve your skills. You can easily take down even the most giant elk by honing your technique and building your confidence.

Understanding the Elk's Behavior

One of the main reasons for understanding elk behavior when hunting with a longbow is that it can help you to be more effective at stalking and eventually getting close enough for a good shot.

Knowing their behavior and where they can help you find the best vantage points for taking a shot without spooking the animal increases your chances of success.

Understanding of Archery Hunting

One of the main reasons for understanding elk behavior when hunting with a longbow is that it can help you to be more effective at stalking and eventually getting close enough for a good shot.

Elk are natural prey animals, meaning that they have evolved over thousands of years to be able to detect danger and evade potential threats. So, it is essential to blend in with the surroundings and move quietly and slowly when stalking an elk.

If you're interested in hunting elk with a longbow, you must ensure you have the tools and skills for success. By taking the time to practice your form, learn about different archery techniques, and understand the behaviors of elk, you can become a successful archery hunter.
If you want to practice archery, get your bow from this list of +200 longbows.