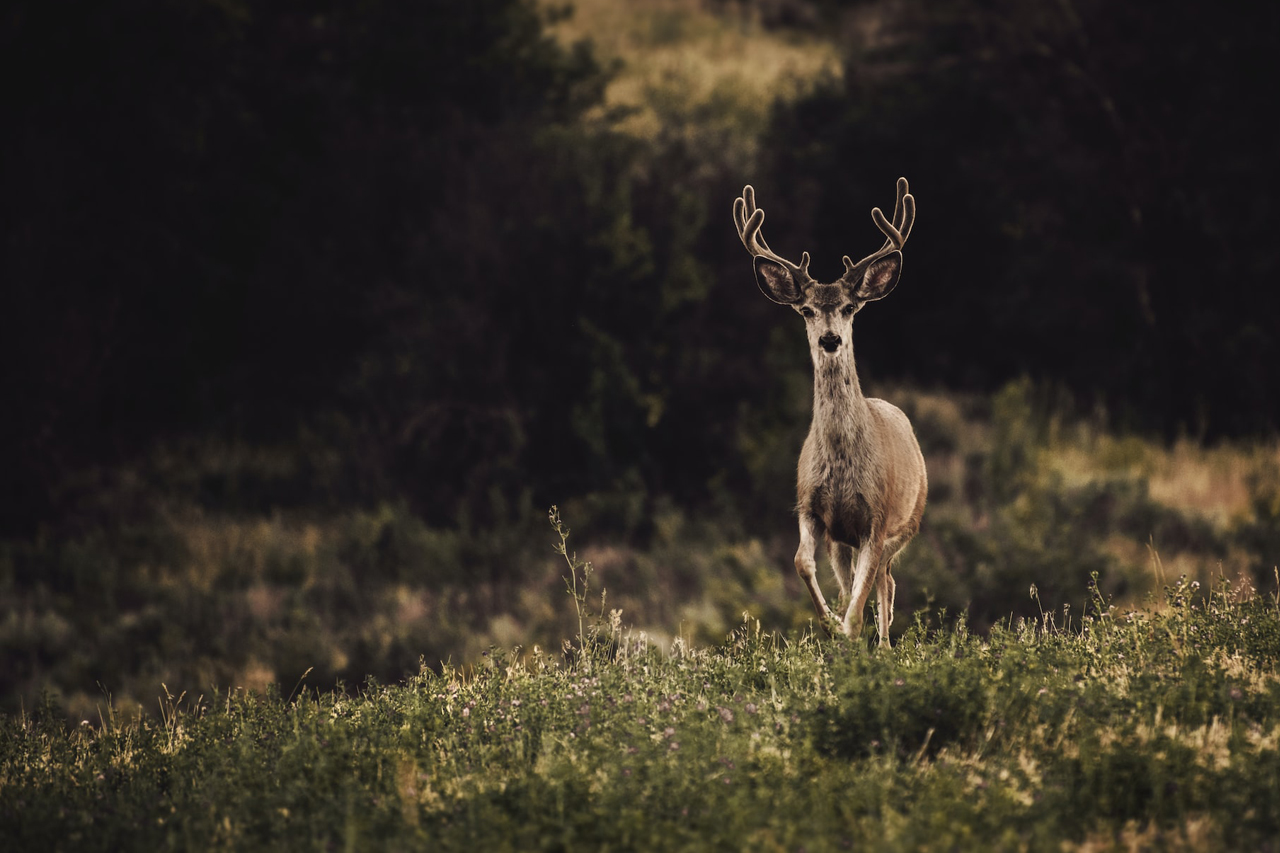 A crossbow can go through a deer's shoulder, but penetration will be minimal, and the bolts will likely snap due to the bones in this area. As a result, bowhunters should avoid aiming in this area because the percentage of killing them ethically and successfully is low.
Crossbow hunting has consistently gained popularity among hunters because of its penetration power and advanced specs. However, the success rate in hunting doesn't only depend on your weapon of choice.
Even though it is a factor, you must know that there are certain areas you should not disregard, like learning a deer's anatomy and which parts you must avoid shooting.
One of the body parts you can think of aiming at is the deer's shoulder. Even though your arrow can go through its shoulder enough to wound the deer, shooting it in this part doesn't guarantee a successful kill.
Although shooting at the shoulder is okay with rifles, it is not advisable for bow hunters, including crossbows. Let's take a look at several reasons why you must avoid shooting your crossbow at a deer's shoulder:
Bones

If you look closely at its anatomy, its shoulder comprises several bones that make it difficult for your bolts to penetrate.

The scapula is its prominent bladed bone and only gets thicker going south. There is also the scapula spine, a dense bone, and a protrusion resembling an I-beam on the shoulder blade.

Although it is not impossible to penetrate the shoulder, the chances of being able to do so are low, which most likely results in a wounded and unrecovered deer. Moreover, there are instances that bolts will break in the first few yards resulting in failed penetration.

Aiming at its body part with present thick bones is not the smartest thing to do, and instead, you should prevent your bolt from making contact with the target's bone as possible for better hunting success.

It is important to remember that an arrow will not penetrate deep enough into vital organs if it strikes a heavy bone.

Unethical

You should know that, in hunting, you should always aim for the animal's vital organs in shooting arrows to make a single ethical kill. Hunters owe it to the animals and themselves to make a quick and humane kill as much as possible.

It is unethical to attempt to disable a deer by shooting in its shoulder, spine, or hindquarters, then track it down and finish it off by shooting again. It also results in a wounded and unrecovered deer which only prolongs its suffering until it dies.

Thus, aiming for a single shot causing lethal damage is essential for a higher chance of success and ethical kill. Hunting is not a race, and this sport requires patience which also applies to waiting for your target to move into a position presenting a better shot angle before you decide to shoot.

Aside from avoiding the deer's shoulder, here are a few body parts you must refrain from shooting at as well:
These body parts are as tough to penetrate as the shoulder region. It requires sufficient skill to single shoot these parts and can be traumatic for the deer if you ever miss a shot. Additionally, the percentage of the deer surviving and escaping is high, leading to a slow and painful death.
Hence, shooting skills are not enough to have a successful hunting event. It would require you a thorough knowledge of your target and patience.
Where do you hit a deer with a crossbow?
You must hit the deer in its heart and lungs with your crossbow since these vital organs ensure more lethal damage than the rest. Furthermore, always go for these shot placements: broadside shot and quartering-away shot.
You may wonder which parts you should aim at, if not the shoulder, neck, and brain. For hunting, your goal is to always shoot at the animal's organs: the heart and lungs.
Taking a perfect shot at these vital organs from 20 to 30 yards away won't require a second shot since these are the areas where you can quickly kill the prey. Since the heart and lungs surface is extensive, you can still likely kill the deer even if your aim is not 100% accurate.
In addition, the blood vessel concentration in those organs is very high, so the deer will bleed out rapidly when the bolt hits. If the deer tries to escape, it won't be able to go too far from the hunting site.
A deer can survive with only one lung, so if you ever miss the heart, make sure you target both of its lungs instead.
You may be asking how you can hit these vital organs, considering that there are various shot placements to choose from when hunting. To answer this inquiry, below are the best deer shot placements for crossbow hunters:
Broadside shot placement

The broadside shot is the best for hunting deer with a crossbow among the numerous shot placements. It is a classic shooting placement that even experienced hunters seek because it has proven its fatal kill of nearly 100 percent countless times.

Also, those hunters who have taken the mandatory hunter education course would know that the broadside shot placement is the most desirable among the others.

It provides the broadest view of the animal's vital organs as it stands sideways to the hunter. There are also no thick bones and mass protecting the critical organs at these angles, and the only thing hindering the penetration is the deer's thin layer of muscle and ribs.

Moreover, such shot placement creates an exit wound which helps in a more obvious blood trail, making the tracking process and body recovery easier if the deer doesn't expire on the spot and attempts to escape.

Nevertheless, even if your shot is slightly off in about one to two inches, your crossbow bolt will still likely hit the heart and lungs, leading to lethal damage and a quick kill of the deer.

In this shot, you must first line up your crossbow's vertical scope reticle with the back of the deer's front leg. Next is to align the crossbow's horizontal reticle and aim at approximately five inches behind the animal's shoulder and one-third to halfway up its body.

If possible, don't shoot until the leg nearest you move forward because this will not only clear the shoulder blade out of the way but also exposes the vital organs.

Quartering-away shot placement

Next to the broadside shot, quartering-away shot placement is the second best for crossbow hunters. If you are having difficulty aiming for a broadside shot placement, you can opt for a quartering-away shot if the opportunity presents itself.

While not as effective as the broadside shot, the quartering-away shot's angle still gives hunters access to a large area of the deer's vital organs and inflicts maximum heart and possibly double-lung damage. Below are the drawbacks you'll face when opting for this shot:

Angle

Knowing that you should be wary of the deer's angle in doing a quartering-away shot is essential because the success rate of hitting the vital organs decreases as the deer angles away from you.

For instance, for a deer with an angle exceeding 45 degrees away from you, the chances of inflicting a lethal shot decrease because your shot window becomes smaller. Furthermore, the events of wounded and unrecovered deer accelerate as the angle increases.

Another drawback is the possibility of no exit wound. In this shot, your bolt can potentially get buried inside the deer's chest cavity or lodged against the other shoulder. As a result, less external bleeding makes it challenging to track the deer if it ever attempts to escape.

However, it isn't that much of an issue because a deer shot this way won't likely go too far from the site.

On the other hand, many hunters still prefer the quartering-away shot because it is more forgiving. Also, the possibility of hitting the vital organs altogether in one go is high, even if the aim can be slightly off on either side.

Besides the two best deer shot placements, you can also opt for the quartering toward shot placement if you are confident enough and has the necessary skills to hit the vital organs with extreme accuracy.

Please know that the quartering toward shot only provides a smaller shot window compared to the two. Hence, only take this shot if you have no other choice and think there is no way the deer will move for a possible broadside and quartering-away shot.

By keeping in mind the best shot placements and body parts to aim for when hunting a deer with your crossbow, your success rate is high, which allows you to make an ethical kill.
What to do if you make a bad shot on a deer?
It is not uncommon for hunters to make bad shots when shooting a deer. Therefore, it is essential to identify which area you hit the animal, do a follow-up shot if necessary, look at the arrow, follow the blood trail, and determine the waiting time when this happens.
In some cases, hunters fail to target the deer's heart and lungs, resulting in several foul shots that need to be corrected. Let's face it, foul shots happen, and things don't always go how we wanted.
The best option is to identify what you should do if it ever happens, which are enumerated below based on the body part struck:
Paunch

One of the awful shots you can do is hitting the deer's abdomen because it results in the animal's slow and painful death. The critical behavior that can help you tell if you hit it in the stomach is that the deer will hunch its back as it tries to escape.

If you see that the deer is still within range, try reshooting it. The arrow will likely get covered in red blood, dark brown or green stomach matter, and smells repulsive.

On the other hand, if it escapes far, wait for 10 to 15 hours before following the blood trail, which will come in tiny droplets or none. When this happens, try to search along the nearest water area.

Liver

Aiming for the deer's heart and lungs is not easy, and sometimes you will hit the nearest organ instead, which likely is the liver.

If you notice the deer's anatomy, you can find the liver at the back of the lungs and in front of the abdomen. Hence, the liver is the third most common organ of the deer to get hit after the lungs and heart.

If this happens, try to do a follow-up shot into the deer. However, do not pursue the deer in an attempt to shoot another arrow.

You can also notice the arrow gets covered in dark-red blood, which indicates that you mistakenly struck the deer's liver. Remember not to follow the blood trail right after the deer attempts to escape. It would be best to wait about five hours before following the blood trail.

Neck

A neck shot is quite unpredictable because there is a tendency that you might recover the deer or not. Many outcomes can happen when you hit a deer on its neck, depending on which specific part it got shot.

Follow-up shooting is likely to be the best option if you don't see the deer drop or ropes of blood streaming out. Although the possibility of the arrow getting broken is high, you can notice bright-red blood covering it.

You will see heavy blood if you hit one of the arteries on the deer's neck, and you don't have to wait long enough to follow the blood trail and approach the deer before reshooting it.

Shoulder

Another typical bad shot is at the deer's shoulder, which is pretty standard since this body part is close to the vital organs, like the liver. If this happens, shoot a second arrow, regardless if it's a low or high shoulder hit.

Expect that some part of the arrow will get covered in blood, and it is likely that you can only recover a piece of it. Take this as an opportunity to determine the penetration depth.

If you did a low-shoulder hit, you'd have to wait shortly before following the blood trail. Meanwhile, immediately trace the blood trail if you end up with a high shoulder hit and do a follow-up shot to kill the deer.

Aside from the bad shots mentioned above, some hunters mistakenly shoot a deer's leg, spine, and ham. When such things happen, always remember to double-check which body part you mistakenly hit so you would know what steps to take to put the deer to its rest.

There is more to killing a deer with a crossbow than randomly shooting it in any part of its body. Remember to hit its vital organs as your unchanging goal; you can do this by doing the best shot placement to lessen the probability of foul shots.