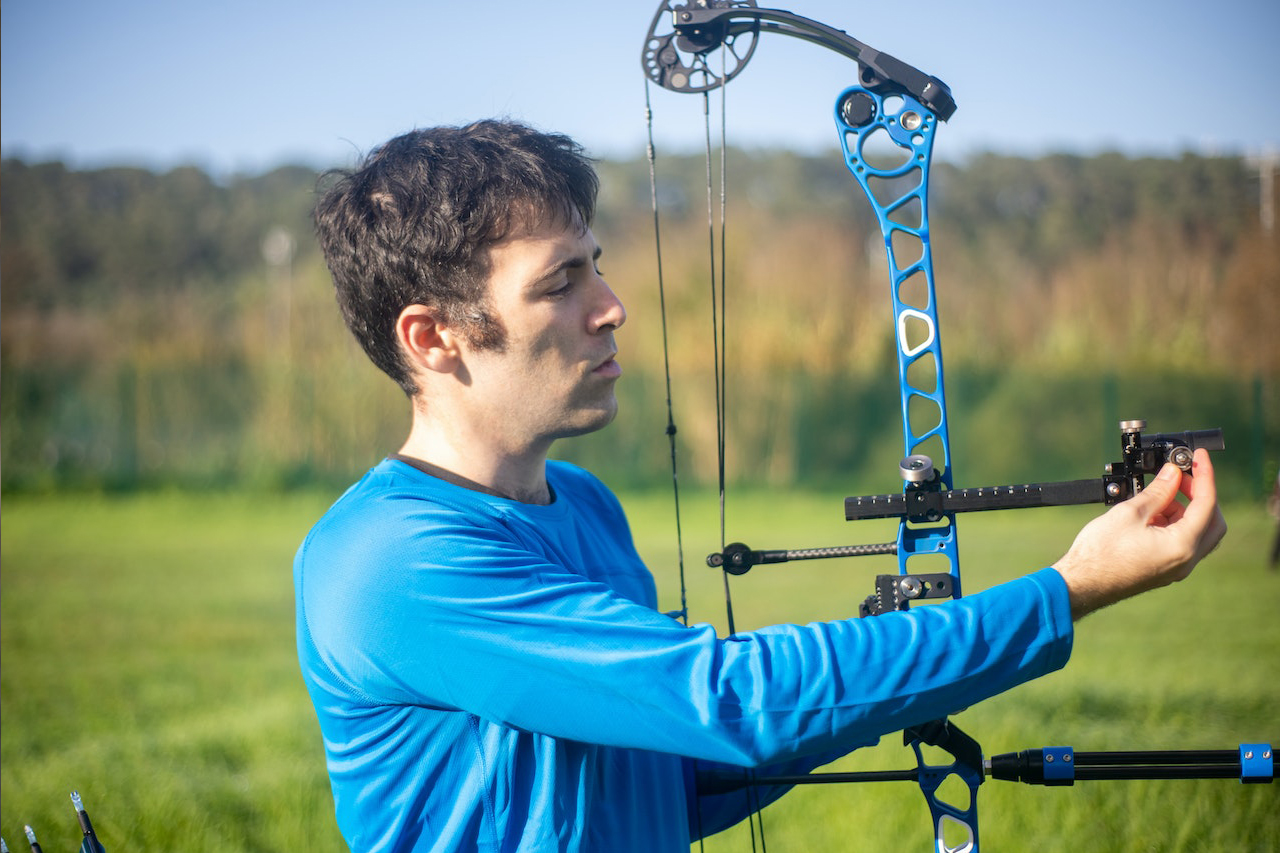 The odd color fletching on an arrow, commonly known as index vane, should face up or down if shot on a compound bow. If you are using a whisker biscuit, the index vane goes up. On the other hand, the index vane points down if you are using an arrow rest.
You may be familiar with arrow fletching and know basic information about arrows, including their parts. However, you may have also noticed that most arrows have odd colored fletching, while a few don't.
On most arrows, there are three fletchings that you can see. Two of them are of the same color, while there is the other one with a different color. The odd-colored one is popularly known as the index vane. Some also refer to it as "index feather" or "cock feather."
Whether you shoot a compound bow, longbow, or recurve bow, it is essential to know where the odd fletching on an arrow should go. For those who use compound bows, there are two directions that the index vane must point towards: up or down.
Please note that the direction of the index vane is different depending on what type of bow you use. It means that the position of the index vane when you shoot from a recurve bow differs from when shooting a compound bow.
Aside from the bow type, the arrow rest you use is also a factor. That's why you must carefully identify the type of bow and arrow rest you use before loading your arrow and releasing it.
In shooting a compound bow, there are two types of arrow rest that you will likely use where you will mount your arrow: whisker biscuit and launcher-style arrow rest.
It is vital to note that your index vane's orientation depends on the arrow rest you use, particularly in shooting compound bows. As a result of their different designs, you must position your index vane differently.
To understand better, enumerated below are the arrow's index vane orientation to follow if you are shooting a compound bow with a whisker biscuit or launcher-style arrow rest:
A. When using a whisker biscuit
The odd-colored fletching or index vane goes up if you fire a compound bow with a whisker biscuit. If you've observed, the whiskers on the bottom of the whisker biscuit have a different color than the rest.
The whiskers with a different shade are stiffer than others and endure more wear and tear. Across these stiffer whiskers, there will be uneven forces across the vanes, which will disrupt the arrow's trajectory.
That's why the index vane needs to go up, so the pressure from the whisker biscuit is equal on every corner, resulting in a reliable arrow flight. Always avoid positioning the index vane down when using a whisker biscuit because it will result in a crooked flight path.
What will happen is that all vanes will have uneven forces applied to them as they go through the whisker biscuit.
The scenario will likely be that the bottom vane of the arrow ends up going through the stiffest whiskers, whereas one of the upper vanes will pass through the nearly open cutout. Lastly, the remaining vane will go through the regular whiskers.
As a result, you'll be shooting your compound bow inaccurately.
B. When using a launcher-style arrow rest
Another arrow rest used for your compound bow is the "launcher-style." Compared to whisker biscuits, you will have your arrow's index vane face in the opposite direction if you use the launcher-style arrow rest.
It means that the odd-colored fletching of your arrow has to point down instead of up. Although the launcher-style arrow rest is relatively common, it has aged and lost favor over time.
However, if you are among those compound bow archers that use it, you probably notice that it has two prongs that hold up the arrow.
Launcher-style arrow rest prongs typically come in single or two-piece prongs wherein its single thin blade gets into contact with the arrow's shaft to help it in place before releasing it.
Sadly, the prongs of the launcher-style arrow rest don't automatically fold down and are not as enclosed as whisker biscuits which is a contributing factor as to why more archers don't use them anymore.
Nevertheless, please note that it would be best for you never to position the arrow's index vane up so to avoid any shooting inaccuracy that may hurt your archery skills.
Now that you know what position your arrow's odd-colored fletching must be when you shoot it from a compound bow, you won't take too much time figuring out whether you have the correct arrow placement.
Why is there an odd colored fletching on the arrow?
The main reason there is odd-colored fletching on the arrow is that there must be no contact between the vane and the arrow rest that will alter the arrow's flight path or damage the bow. Hence, it serves as a guide to aid with proper fletching orientation when an archer is nocking an arrow.
After knowing where the correct index vane orientation should be in a compound bow, you may wonder about the purpose of odd-colored fletching. Indeed, there must be a reason why arrows have it and how crucial it is for archers.
The odd-colored fletching or index vane on arrows are not just there for design purposes. Other than stabilizing the arrow's flight the moment it leaves the bow, odd-colored fletching serves as a guide to archers regarding the arrow's proper fletching orientation.
As mentioned previously, you need to follow particular index vane positions because an incorrectly placed index vane causes the arrow to fly crookedly, resulting in inaccurate shots.
Even in nocking arrows, there are steps that professionals advise you to follow, and the index vane plays a vital part.
Another reason why arrows have odd-colored fletching on them is to ensure that the vane does not come into contact with the arrow rest, thereby altering the arrow's flight path or damaging the equipment.
Although the damaging effect doesn't happen immediately, it will occur sooner or later, requiring you to replace certain bow parts. Thus, it will inevitably cause you to spend a few bucks on your budget.
The index vane also guides the arrow's spin direction aside from its flight path. Following the index vane's proper position placement on your bow can expect more accurate results. Your arrow will also shoot straight.
Remember that an arrow with skewed aerodynamics results in a faulty shot.
You may also be curious about what happens if there is no index vane on the arrow. There are indeed archers with arrows that don't have index vanes, especially the ones who make their own. It is because there are arrow rest that doesn't necessarily require arrows to have odd-colored fletching.
For instance, a drop-down arrow rest ensures that nothing interferes with the fletching as the arrow shoots out of the bow.
Another example is that traditional archers prefer to use feather fletching than plastic ones and shoot them with their thumb, which acts as the arrow rest. You can usually notice it on archers that use horse bows and longbows.
Compared to vanes made of plastic and rubber, the feather ones are much softer. Thus, it won't significantly affect the arrow's trajectory if it gets in contact with something while launched. That's why there is no need for odd-colored fletchings on the arrows with feather vanes.
Additionally, most arrows with plastic and rubber vanes already have odd-colored fletchings on them, whether you want to use them or not.
Another thing to note is that other archers prefer arrow-nock bumps instead of index vanes. A noticeable bump on one side of your arrow nock serves the same purpose and reason as the index vane.
Using either feather arrows, arrow nock bumps, or drop-down arrow rests is an excellent alternative for those who don't want to use index vanes. Nonetheless, it is still quite advisable to use index vanes because you can dial in each arrow easily to keep your groupings tight.
You can immediately identify if the arrow tends to spin inconsistently or pulls to one side. In addition, you can also remove the vane anytime you want and reattach it immediately if you think it is the culprit to your arrow's inaccuracy and needs tuning.
Therefore, odd-colored fletching or index vanes on arrows are important in archery, and it is something that you should always pay attention to when shooting.
Does nock's position matter?
The position of the nock is essential, just as the placement of the fletchings and index vane. When you mend an arrow, if you unintentionally twist the nock in the wrong direction, all of your fletchings will be in the incorrect position.
Nock positioning matters if you want to avoid your fletchings being in the wrong position. If the nock position is incorrect, you need to do either of the following actions:
Remove the arrow's fletching, then glue them properly; or
Take the nock off and re-glue it in place.
Remember to use an arrow jig whenever you glue nocks and fletching on the arrows to make things easier and faster.
Following the correct nock position ensures that everything is in the proper placement, and you are not risking having the fletching hit the other parts of the bow, like the riser, whenever you shoot.
Furthermore, you will be at ease and won't have to constantly worry if it affects your shooting performance, enabling you to focus on other things you need to improve, such as but not limited to proper shooting form and techniques.
Aside from risking your arrow's fletching, your arrow will also deflect and travels off course if your nock position is incorrect. It also damages your fletchings over time, especially the ones made of plastic.
Below are the steps on how to nock an arrow correctly on a compound and recurve bow with a drop-away rest and whisker biscuit:
a. Recurve bow
Take the arrow from the quiver and grab it by the nock end or near the fletching.
Next is to position the recurve bow toward the ground.
After doing so, place the arrow's shaft onto the riser or arrow rest.
Ensure that the index vane faces away from the recurve bow. Remember to follow the correct index vane position when using a recurve bow.
Please wait for a snapping sound, indicating that the nock clicked securely onto the bowstring.
Release the arrow and observe its flight trajectory. If the arrow's trajectory is straight, then you did it right. If crooked, you most likely nocked it wrong or incorrectly placed the index vane.
b. Compound bow
The process of nocking an arrow with a compound bow is comparable to that of a recurve bow. Compound bows have multiple arrow rest options, so the index vane becomes obsolete, making it more manageable.
Additionally, there is a possibility that you will or will not hear a clicking sound when the nock connects to the bowstring, which is fine as long as you can feel it is securely attached.
c. Drop-away rest
In nocking your arrow with a drop-away rest, ensure that you have clearance on the cables. The index vane can point toward the ground or go up, depending on your bow type.
d. Whisker biscuit
It follows the same nocking process, too, but instead, you have to lay the arrow's shaft onto the rest since whisker biscuits do self-correct. Remember to check the index vane position to follow since it can vary depending on the bow type.
Also, remember to keep it tuned, so everything falls into place quickly.
If you heed the nocking position tips above, you have one less thing to stress about regarding proper arrow placement.
Odd color fletching on a compound can only go either up or down. Always take note of which arrow rest type you are using to know which position you must follow. Remember to follow the correct nocking position since it is also an essential part you should never ignore when shooting.