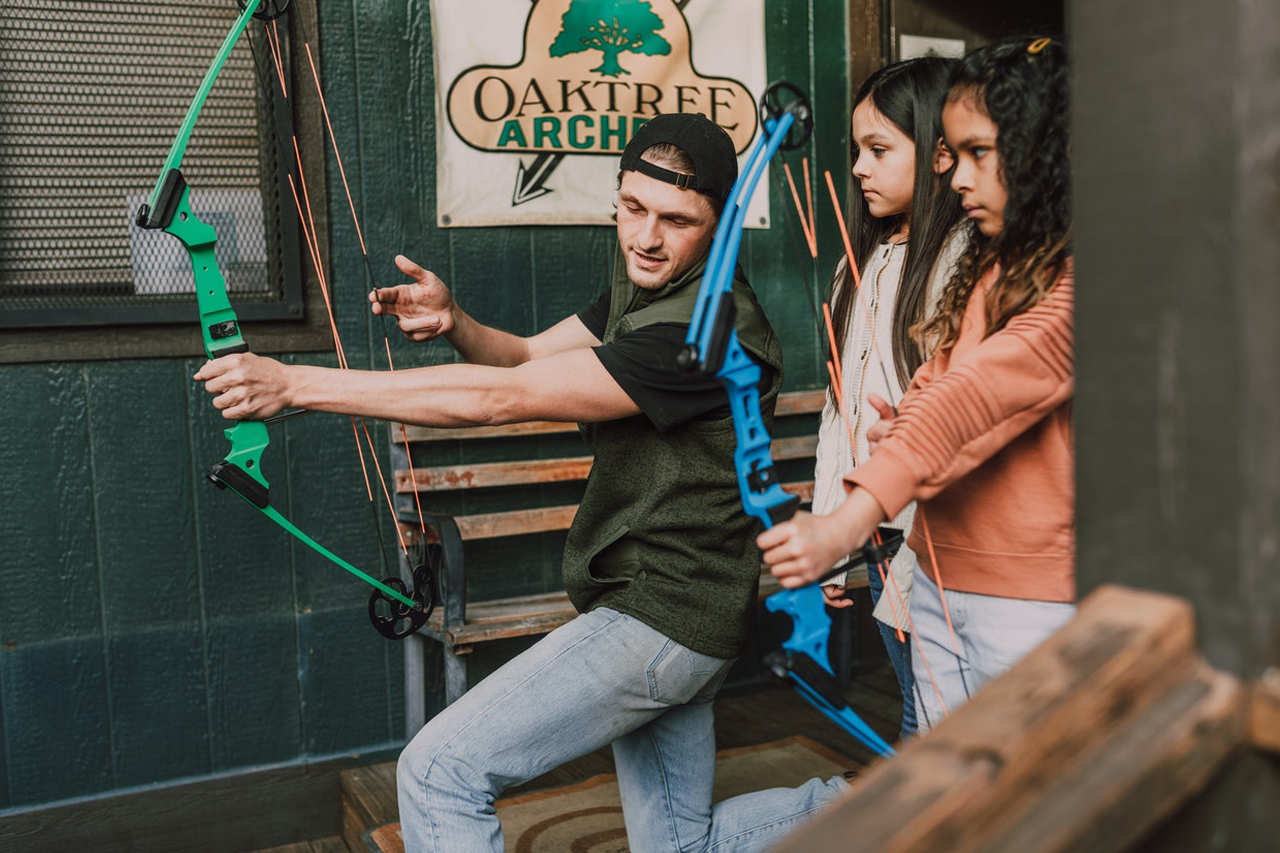 You can overdraw a compound bow. World Archery has a maximum overdraw measurement of 6cm from the grip's neck, but it is almost impossible to gauge precisely how much overdraw you have.
Overdraw is the moving contact point of your arrow (e.g., the prongs of the blade) behind the throat of your grip. There are several reasons why archers use overdraw on a compound bow.
The most basic explanation is that you can shoot shorter and stiffer arrows with overdraw. When this happens, you would be able to drop an arrow spine which will make your arrows lighter and faster.
The result?
There is a possibility to hit longer distances and shorten your sight tape for the field.
Additionally, overdrawing a compound bow can affect your current choice of arrow spine. Overdrawing your bow by an inch weakens the spine of your arrow by the same amount of draw weight you would add to it.
However, overdraws have fallen in and out of favor since the 1980s. It is because many people see more negative aspects of it than positive.
An obvious disadvantage of overdrawing is that any movement you make will have more effect on your arrows the further away the arrow contact point is from your grip.
While shooting, you will often see this when you watch the end of your long rod. It will appear to be moving more than your scope or bow.
So, should you choose to shoot shortened arrows, you should also take extra care because an overdraw may make your bow less forgiving. When your draw the bow back, it is essential to ensure that the arrow doesn't come off the rest.
If that happens, the arrow's point will probably be behind your hand when it's released.
What happens if you overdraw a compound bow?
If you overdraw a compound bow, it can remove the effects of bow hand torque. The theory says that since most of the opposing force is coming from the archers' wrist, this will reduce the torque effect if the contact point of the arrow is immediately above the archers' wrist.
This theory emerged in the 1980s when compound archers set their arrow rests behind their grips. The reason for this is to reduce the torque on the bow.
Applying the same amount of torque to the whole group is unnecessary. If, for some reason, the amount of torque is different, the arrow may hit on the left or the right side.
You can follow this simple way to determine how much bow hand torque affects your shot:
Gently grip your bow at full draw.
Twist your bow.
Aim as usual and make the shot.
When you torque the bow, your arrow will likely hit further left or right (depending on which way you rotated it) than your other arrows. Most people who use this method will see a difference, although it's not always the case.
Do compound bows lose power over time?
Bows losing power over time is a misconception. Contrary to popular belief, compound bows don't lose control because they have already aged. Instead, you may find the bowstring lost due to repeated use that needs fixing or replacement.
Compound bows can last for at least 25 to 30 years with proper care and maintenance. The life of your bows depends primarily on the quality of their parts.
You can always fix your compound bows when the pieces are already unstable. However, the problem also lies in the availability and price of the spare parts.
All compound bows include the following parts:
Riser
Cams
Limbs
Bowstrings, cables, and cable guard
Riser
The riser is in the middle part of the arrow shelf and the bow mountain shaft. It is an essential part of a compound bow because it is where you hold the grip while aiming.
Most of the time, risers are aluminum, but it changes over time because aluminum increases the bow's weight, making it heavier than usual.
Both aluminum and carbon fiber have a long-surviving power making them a good material option for your bow. That is why most modern compound bows are carbon fiber.
It does not only make the bow lighter, but it also increases the lifespan of your bow. A riser can last a decade when you take good care of it.
Limbs
Manufacturers produce a limb swap, as a compound bows limbs will eventually wear down or break. Flaws can lead to early breakage or snapping, or damage may occur while in use.
Part of regular bow maintenance is carefully checking your limbs for any cracks or signs of damage. Modern limb material is much less damage-prone than wood, but a limb is still the part of a bow subjected to the highest stress. If the limbs do break, they are potential hazards for moving shrapnel.
Let us say you had a dryfire — best to return your bow to its case with the rigid sleeve because you may be dealing with an explosive breakage in a limb within the next couple of hours.
Doing this is an excellent choice for most composite and recurve bows. Limbs also damage when you drop the bow, strike it, or store it incorrectly.
Cams
Cams are usually sturdy and move smoothly, with potential problems including snags (cables or strings) and getting bent. Unless you have the skills of a bow tech, you will need to rely on an annual maintenance and tuning session to address any issues with your cams or their replacement.
As part of your checks, you may want to check to see that your cams are running smoothly and in the same way, without apparent damage or problems. Also, get someone else to hold the bow in a fully drawn position as you inspect the cams.
Often, the cams will look fine at first sight, and it is not until you hold your bow at the full draw that they do not line up correctly.
Loose Components
Aside from the bows' components, the life expectancy of a compound bow also lies on the following factors:
Number of arrows it flies
Type of arrow it flies
Frequency of usage
Maintenance
Accidental falls or dry fire
Furthermore, you will be able to get as much power out as you would from a traditional bow, but at a reduced weight. In short, working as a lock-and-tack allows the compound bow to multiply the Bowman's force of entry, saving more potential energy in a bent limb than is possible with a traditional bow with an equivalent drawing weight.
To accomplish varying draw weights, you should employ noncircular wheels or cams, which alter the forces an archer requires as they go through the draw cycle. Bows with higher draw weights produce a higher speed arrow, imparting tremendous energy on the arrow.
How many shots will a compound bow last?
A compound bow can last up to 30,000 shots and more. With that rate, you can shoot year around for over 200 arrows a week.
Compound bows, especially modern ones, can last about 25 to 30 years. By regularly changing its parts, you can increase its life span by 263%. Here are some important reminders on how you can expand the lifespan of your bow:
Wax the string regularly.
Strings are susceptible, so keep an eye on the string.
Inspect your bow periodically and repair it immediately if there is any damage.
Store your compound bow properly. Please place it in a place where children cannot reach.
Always be careful not to take your compound bow to heat contacts.
Don't draw your bow over its limits, as it will be very harmful.
Most archers change their bowstrings once a year to extend the lifespan of their compound bow and last for more shots. This practice is not necessary but can help maintain the excellent condition of your bow. On average, it is a best practice to replace your compound bowstrings every 2-3 years for better performance.
How to shoot a compound bow without a release?
To shoot a compound bow without a release, you need to shoot with two fingers, have a short draw length, and a long frame. These are necessary to work around the steep angle of your string when it is at full draw.
It would be best if you reduced the angle of the string to shoot a compound bow without a release. The best way to do it is to buy a compound bow with a large frame because it has a steeper angle than small compound bows.
Compound bows have shorter limbs; therefore, their strings are at a steeper angle. The shorter bow's shorter limbs make it easier for you to slide up to the arrow and touch it upon release. Using a release, however, is safer, increases accuracy, and is more comfortable.
Archers usually prefer shooting compound bows with a release because of comfort. Its steep string angle makes it uncomfortable to shoot without a release since you need to apply more tension on your fingers when drawing the bow. However, this can also cause disadvantages because you can unintentionally interfere with the arrow's flight.
Another good reason to use a release is that it can help you prevent the possibility of getting your compound bow cams derailed. If you are not cautious, you can force the string outside the groves in the cams. When that happens, the bow will violently derail, resulting in significant damage and injury to your bow.
Another way to reduce the angle without a release is by lowering your draw length. Some archers don't find this a good idea since you should always base your draw length on your most comfortable shooting position. However, in some cases, such as reducing the angle of your string, it is easier to shoot when the draw is shorter.
The best way to reduce the angle by shooting is to draw it with two fingers. Place your index finger above the arrow and your middle finger below the arrow. Using the three-finger-under-the-arrow technique is not an excellent option to reduce the angle of your string.
If you use the three-finger-under the arrow technique, your third finger will be quite far from the arrow. Doing that can get your fingers squashed. Here are suggestions on how you can shoot your compound bow without a release:
Put the string deep in your fingers. Please do not put it on your fingers because it will strain them.
Keep your bowstring vertical because if you twist the string, you can derail the bow. Moreover, if you slightly twist the string, it can affect your accuracy.
Place your fingers as close to the arrow as possible. It is because the further you place the fingers from the arrow, the more you will feel uncomfortable. However, it would be best if you remembered not to touch the arrow when at full draw.
Use the technique of one finger above and one finger below the arrow. It will help you to draw the string below and above the arrow equally.