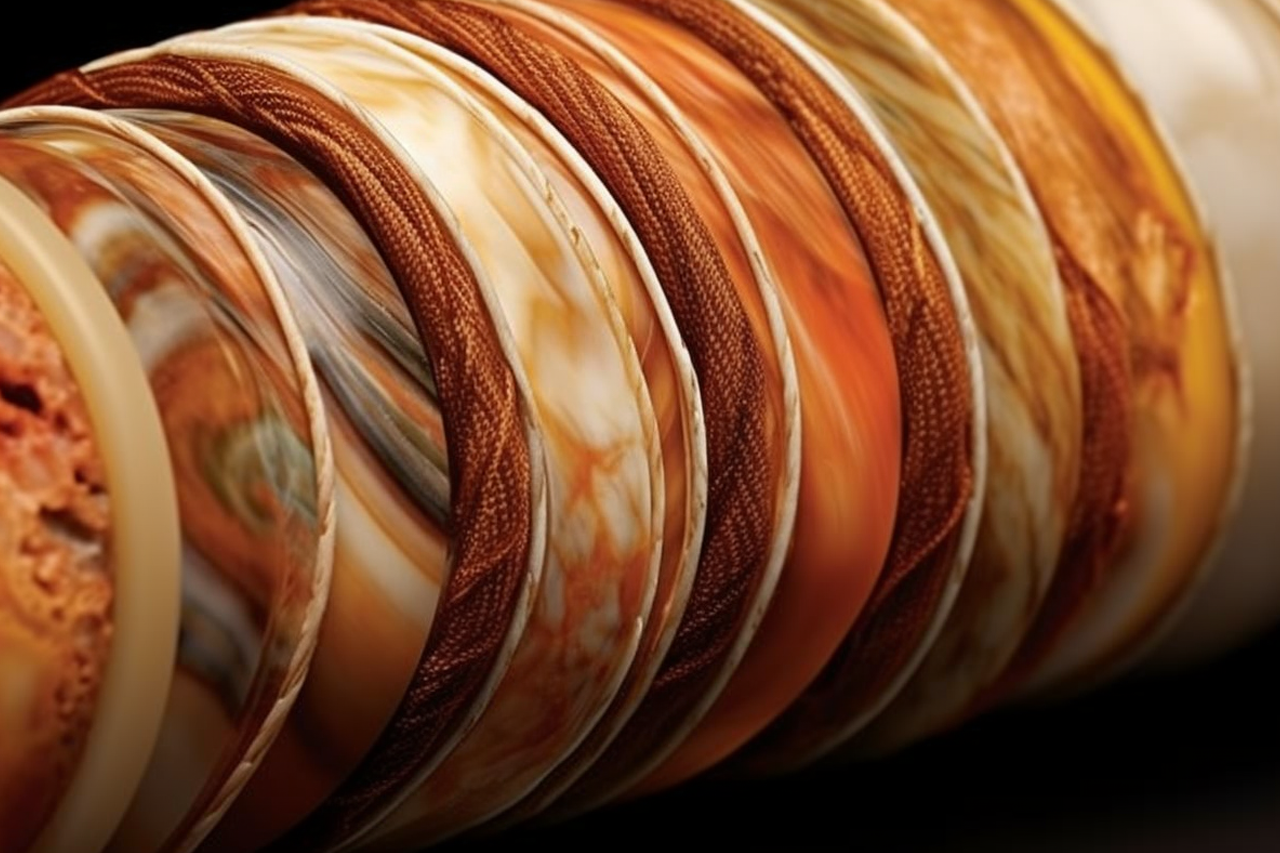 Are you a bow enthusiast or a beginner looking to learn more about the composition of bowstrings? Understanding the materials that make up a bowstring is crucial for maintaining and optimizing your bow's performance.
Bowstrings have come a long way from the traditional animal sinew and plant fibers used in the past. With technological advancements, synthetic materials like Nylon and Dacron have also become popular choices.
Here, we will explore the different materials used in bowstrings, their pros and cons, and the factors to check when choosing a suitable material for your bow. Whether you're looking for traditional, eco-friendly, or high-performance options, we've got you covered.
Additionally, discuss tips for maintaining and replacing your bowstring to ensure your bow continues to perform at its best.
So, let's dive in and discover the fascinating world of bowstring composition!
Natural Materials Used in Bowstrings
Let's take a closer look at what natural materials make up bowstrings! Historically, natural fibers such as animal tendons, horsehair, and sinew were used to make bowstrings. These materials are highly durable and robust, making them ideal for use in archery.
Animal tendons, such as those from deer or buffalo, are often used in bowstring construction because of their high tensile strength. Horsehair, on the other hand, is a softer material often used to create the core of a bowstring.
Sinew, the tough tissue that connects muscles to animal bones, is also famous for bowstring construction.
While natural materials are still used today in some traditional archery practices, they've largely been replaced by synthetic fibers due to their inconsistency and difficulty obtaining.
Animal Sinew: A Traditional Choice
Animal sinew has long been famous for traditional bowyers like the Inuit people. They use it from caribou to create their bows. It is a robust and elastic tissue that connects muscles to animal bones. They use it in bowstrings due to its high tensile strength and durability.
Using sinew for bowstrings involves cleaning and drying before it is twisted or braided into a string. Once twisted together, it's typically coated in a natural adhesive, such as hide glue, to help hold its shape and prevent it from unraveling.
One of the benefits of using sinew for bowstrings is its ability to store and release energy efficiently. When you draw back the bow, it stretches and stores energy, which is released when the bowstring is released. This results in a faster and more powerful shot.
However, sinew can be sensitive to changes in humidity and temperature, which can affect its performance. Despite this, many traditional bowyers use sinew for their bowstrings due to its strength and historical significance.
Plant Fibers: Eco-Friendly and Durable
Plant fibers for bow-making are an eco-friendly and durable alternative to animal sinew. Plant fibers are readily available and renewable and can harvest without harming the environment or animals.
There are several options to choose from when it comes to plant fibers. Here are some of the most common ones used in bow-making:
Bamboo: This versatile plant is lightweight, strong, and flexible. You can weave its fibers together to create an incredibly durable bowstring.
Hemp: Hemp fibers are known for their strength and durability. They're also moisture-resistant, making them an excellent choice for bows used in wet conditions.
Flax: Flax fibers are robust and flexible. They're also resistant to rot and UV damage, making them an excellent choice for outdoor bows.
Overall, using plant fibers for bow-making is an excellent choice for those who want an eco-friendly and sustainable alternative to traditional animal sinew. With many options available, you can choose the plant fiber that best meets your needs and create a durable, reliable bowstring.
Synthetic Materials: Nylon and Dacron
Synthetic materials such as Nylon and Dacron offer bow-makers a durable and versatile alternative to traditional animal sinew.
Bowyers commonly use Nylon, a strong and lightweight material, to produce bowstrings. It's known for its resistance to wear and tear, making it a popular choice among archers who frequently use their bows.
Nylon bowstrings are also highly customizable, as they can be made in various colors and thicknesses to suit an archer's preference.
On the other hand, Dacron is a polyester material that you can use to produce bowstrings for traditional and modern bows. It's a highly durable material can withstand high tensions, making it ideal for high-performance bows.
Dacron bowstrings are also known for their stability and consistency, which is crucial for archers who require precision and accuracy in their shots. Additionally, it is a relatively affordable material and a popular choice among beginners and professionals.
Check out these +40 bowstrings from synthetic materials.
The Pros and Cons of Different Materials
When choosing materials for your bow, these pros and cons can be a thing that you can check.
For example, bamboo is a popular choice due to its strength and flexibility. It's also lightweight and moisture-resistant, making it a durable option. However, bamboo bows can be more expensive and require special care to maintain their quality.
Another natural material used in bow-making is yew wood. Yew is known for its elasticity and durability, which makes it an excellent material for bow-making.
It also has a beautiful, natural finish that many archers appreciate. However, yew is a rare and expensive wood, and it is difficult to source high-quality yew for bow-making.
Additionally, yew bows require more maintenance than other materials and can be prone to warping if not properly cared for.
Factors to Consider When Choosing Bowstring Materials
One important factor to consider when choosing bowstring materials is the type of archery you'll participate in. Different materials may suit differently for different styles and levels of competition. For example, a synthetic material like Dacron or Fast Flight may be a good choice if you're a beginner archer or just starting out in target archery.
These materials are affordable, easy to maintain, and perform well for basic archery needs. However, consider using more advanced materials like Dyneema or Spectra if you're a more experienced archer or into competitive archery.
These materials are stronger, more durable, and provide better accuracy and speed. They're also more expensive and require more maintenance but can significantly improve performance for advanced archers.
Ultimately, the choice of bowstring material will depend on your personal preferences, budget, and the type of archery you'll be participating in.
Maintaining and Replacing Your Bowstring
Maintaining and replacing your bowstring is crucial for optimal performance and can increase the lifespan of your bow by up to 50%. A worn-out bowstring can lead to inconsistent shots and even cause damage to your bow.
Proper maintenance includes inspecting your bowstring for any signs of wear or fraying after every use. If you notice any damage, you must replace the bowstring immediately to avoid any potential harm.
To replace a bowstring:
Remove the old one and measure the bow's overall length to ensure an accurate fit.
Select a bowstring material that fits your needs and preferences.
Remember that different materials have varying levels of durability and performance, so choose one that aligns with your shooting style and frequency.
Finally, when installing the new bowstring, apply appropriate tension and pay close attention to its brace height to ensure it's within the manufacturer's recommended range.
By properly maintaining and replacing your bowstring, you can ensure optimal performance and extend the lifespan of your bow.
Frequently Asked Questions
How do I properly string my bow with a new bowstring?
First, to properly string your bow with a new bowstring, ensure it is unstrung and the limbs clean and dry. Then, attach one end of the bowstring to the bow tip and secure it with a knot or bowstring loop.
Next, loop the string around the other bow tip and use a bow stringer tool to bend the limbs and slide the string into place. The bowstring should be snug but not overly tight, with the bow limbs evenly bent.
Finally, check the brace height (distance from the bow grip to the string) and adjust it if necessary. Always use a bow stringer tool and never dry-fire your bow, which can damage the limbs and cause injury.
What is the average lifespan of a bowstring?
Your bowstring is the lifeblood of your bow, and its lifespan can vary depending on various factors. A well-made bowstring can last for years with proper care and maintenance, even with regular use.
However, if you put your bowstring through its paces, subjecting it to harsh weather conditions, extreme temperatures, or rough handling, it may only last for a while.
It's important to keep it clean, dry, and free from damage to extend the lifespan of your bowstring. Regular waxing can also help to protect your bowstring from wear and tear. Ultimately, the average lifespan of a bowstring depends on how you use it and how well you take care of it.
With the proper attention and care, a good quality bowstring can last many years of shooting enjoyment.
Can bowstrings be recycled or repurposed?
Bowstrings can be recycled or repurposed.
When a bowstring is worn or broken, you can recycle it by melting the material and using it to make a new bowstring or other products.
You can also repurpose it for other uses, such as tying down equipment or securing items in a backpack. However, it's important to note that not all materials used in bowstrings are easily recyclable, so it's best to check with local recycling facilities to ensure proper disposal.
### How do I know when it's time to replace my bowstring?
When it comes to knowing when it's time to replace your bowstring, there are a few things to remember. First and foremost, pay attention to the integrity of the string itself. If you notice any fraying, damage, or other signs of wear and tear, it's likely time for a replacement.
Additionally, consider the age of the string and how often you use it. If you're a frequent shooter, you may need to replace your bowstring more often than someone who uses their bow occasionally.
Finally, if you notice any changes in how your bow performs or feels, such as decreased accuracy or a difference in the draw weight, it could be a sign that you need to replace your string.
Ultimately, it's always better to err on caution and replace your bowstring sooner rather than later to ensure the safest and most practical shooting experience.
Are there any health or safety concerns associated with certain bowstring materials?
There are a few things to consider regarding health and safety concerns with bowstring materials.
First, some materials may cause allergic reactions in individuals with sensitive skin. For example, bowstrings made of natural fibers such as hemp or linen may cause skin irritation.
Additionally, some synthetic materials used in bowstrings may be harmful when exposed to high temperatures or flames, posing a risk of inhalation or skin absorption.
It's important to research and choose bowstring materials that are safe for you and your environment and always handle and store them properly to minimize potential risks.