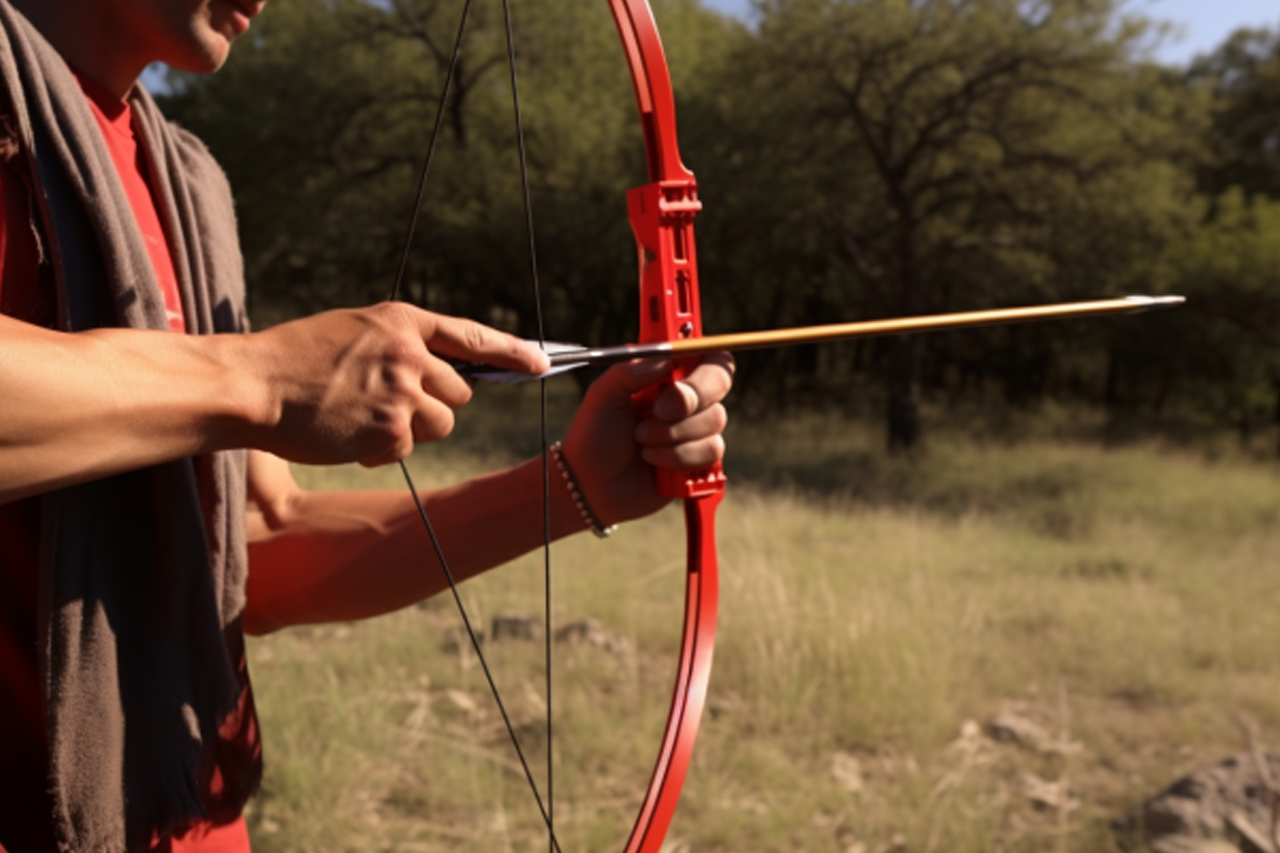 As an archer, you know that accuracy is everything. The slightest mistake in form or technique can cause your shot to miss its mark by inches or even feet. That's why it's crucial to understand every aspect of the sport, including the importance of nocking an arrow properly.
Nocking refers to placing an arrow onto the bowstring so that it sits securely and is ready for release. It may seem like a small detail, but getting this step right can significantly impact your accuracy as an archer.
In this article, we'll explore why nocking is so important and how mastering this technique can help you improve your overall archery skills. So grab your bow and arrows, and let's dive in!
The Importance of Proper Arrow Placement
You can't hit your target if you don't place the arrow properly, so make sure you take the time to nock it correctly and aim precisely. Proper arrow placement is crucial for accurate archery because any slight deviation from the intended path will significantly affect where your arrow lands.
When nocking an arrow, ensure it sits securely on the bowstring, and you must position it at a consistent depth. It provides enough clearance between the bow and arrow when fired.
Additionally, ensure that the bowstring is properly aligned with your dominant eye, as this will help give a clear line of sight toward your target. These small details may seem insignificant, but they are essential in helping you achieve pinpoint accuracy while shooting arrows.
Understanding Nocking Techniques
Feeling confident in your shooting technique requires mastering how to attach the projectile to your bowstring. This process is called nocking, which is crucial in ensuring accurate archery. Here are some important things to keep in mind when it comes to understanding nocking techniques:
Proper alignment: The arrow must be aligned with the bowstring, as even a slight deviation can cause significant inaccuracies in trajectory and aim.
Indexing: Consistently placing the arrow in the same position on the bowstring helps ensure that you correctly line it up.
Depth: Nocking too deeply or shallowly can also affect accuracy, so finding the right depth for your particular setup is essential.
By understanding these principles of nocking, you can take your archery skills to the next level and increase your chances of hitting your desired target every time.
Remember that consistency is key, so practice often and pay close attention to how you attach each arrow to your bowstring.
Factors that Affect Arrow Flight
Understanding the factors that affect your arrow flight can greatly improve your enjoyment of the sport. One of the major factors is the weight of your arrow.
A heavier arrow will generally fly slower but with greater force, while a lighter one will glide faster but with less pressure. The spine or stiffness also plays a significant role in its flight trajectory.
Arrows with too much or too little stiffness may not fly straight and break upon release.
Another factor to consider is wind resistance. Wind can significantly impact an arrow's flight path, causing it to veer off course or lose velocity.
Many archers use fletchings or feathers on their arrows to create drag and stabilize their flight path to mitigate this. Additionally, humidity and temperature can affect the air density, affecting an arrow's trajectory.
By understanding these various factors and adjusting accordingly, you can greatly improve your accuracy as an archer and ultimately enjoy the sport more fully.
How Nocking Affects Accuracy
It can be frustrating and disappointing when you miss your target, but improving your technique by properly nocking your arrow can greatly increase your chances of hitting the bullseye.
Nocking is attaching an arrow to a bowstring in preparation for shooting. Here are three reasons why proper nocking is critical for accuracy in archery:
1. Proper alignment
When you nock an arrow correctly, it ensures proper alignment with the bowstring and rest. This alignment helps to eliminate any left or right movement during release, which can cause inconsistent shots.
2. Consistent release
A consistent release is essential for accurate archery shots. When an arrow is not properly nocked, it may have uneven pressure on the bowstring during release. This inconsistency in pressure can cause erratic shots because the force applied to the arrows changes from shot to shot.
3. Better grouping
By ensuring that each shot is a consistent starting point (the correct placement of arrows on a well-strung bowstring), proper nocking helps improve grouping and overall accuracy by reducing variables that could affect each shot's trajectory and speed.
Common Mistakes to Avoid
One of the most prevalent mistakes to avoid in achieving precise shots is improperly attaching the arrow to the bowstring. This common mistake can lead to inconsistent shots, decreased accuracy, and even safety hazards. It's important to remember that nocking an arrow is a crucial step in archery that you must execute correctly every time.
To avoid this mistake, ensure the nock fits snugly onto the bowstring without being too tight or loose. You should also ensure the arrow's proper alignment with the bowstring and pointing toward your target.
Additionally, you can use a consistent anchor point when drawing back your bowstring to help maintain consistency in your shots. By paying attention to these details and avoiding this common mistake, you'll be well on your way to achieving accurate and consistent archery shots.
Tips for Improving Your Nocking Technique
Improving your technique for attaching the arrow to the bowstring can greatly enhance your ability to hit your target safely and efficiently consistently. Here are three tips to help improve your nocking technique:
Use consistent pressure: When placing the arrow on the bowstring, make sure that you use constant pressure. It means applying enough force to secure it but not so much that it bends or warps.
Check alignment: Before releasing an arrow, check its alignment with the bowstring. The nock should be perpendicular to the string and facing away from you. Any deviation can cause inaccurate shots.
Practice regularly: Like all aspects of archery, improving your nocking technique requires an approach. Take time during each session to focus on this critical step and work towards developing muscle memory.
By incorporating these tips into your archery routine, you will see improvements in accuracy over time. Remember that consistency is key to successful archery!
Enhancing Your Overall Archery Skills
Now that you've improved your nocking technique, it's time to focus on enhancing your overall archery skills. Consistency is vital to accuracy in archery, and there are several techniques you can use to improve it.
One of the most important things you can do is practice regularly. Ensure you're shooting at least a few times a week, if not daily. It will help develop muscle memory and become more comfortable with your bow and arrows.
It would help if you also worked on building your strength and endurance through weightlifting, running, or yoga exercises. Finally, consider working with a coach or joining an archery club to receive feedback on your form and technique.
By consistently practicing and refining your skills, you'll be well on your way to becoming a skilled archer capable of easily hitting even the smallest targets.
Frequently Asked Questions
What is the history behind nocking arrows in archery?
To answer your question, the history of nocking arrows in archery dates back to ancient civilizations. It involves attaching it to the bowstring and is crucial for accurate shooting, ensuring consistent positioning and release.
Are there different types of arrows that require other nocking techniques?
Different arrows, such as those made for traditional or compound bows, require other nocking techniques to fit the specific bow's design. Proper nocking ensures a consistent and accurate shot.
How do you properly maintain the nocking point on your bowstring?
To maintain the nocking point on your bowstring, use a bow square to measure and mark its placement. Regularly check for wear and tear, and replace worn-out nocks. It ensures consistent arrow release and accuracy in archery.
Can nocking an arrow too tightly or loosely affect accuracy?
Nocking an arrow too tightly or loosely can greatly affect accuracy. It is important to find the right balance for your bow and arrows. Proper nocking ensures consistent arrow flight and reduces the chance of misfires.
Are there any safety precautions to remember while nocking an arrow?
Always ensure the bowstring is properly seated into the nock groove when nocking an arrow. Avoid pointing arrows at people or objects outside of your intended target area. Always wear proper eye and hand protection while handling them.
Check out these +500 arrow Nockings to improve accuracy in shooting.