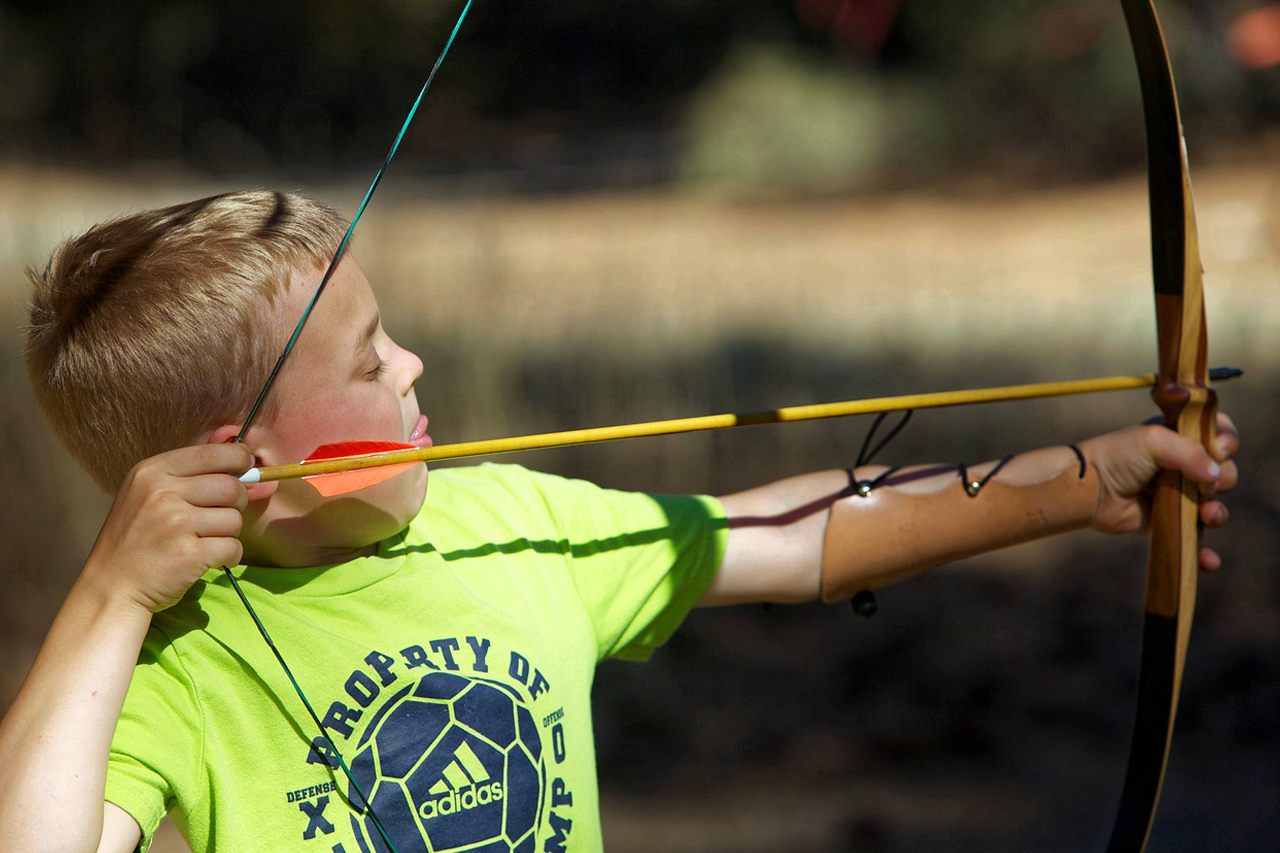 Arrow fletching is what you see at the tail of the arrow shaft. It can be of any shape and form and made of different materials.
Fletching in the arrow shaft will be for aesthetic improvement and improve its flight once it leaves the bow.
Purpose of Fletching in an Arrow
Fletching is not only for the arrow to look better and personalized but it is attached to the arrow for specific reasons and purposes.
Stability in Flight. It is the reason why archers prefer to use fletching on the arrow shaft. It helps stabilize the arrow and fly at a consistent speed and stay in its flight path.
Allows to stay in one flight path. As the arrow leaves the bow, the fletching will enable it to spin while it flies before hitting the target.
It reduces the archer's paradox.
Types of Fletching Configuration
The fletching turn is the orientation by which the fletching is attached. As the arrow leaves the bow, it rotates in its flight before it reaches the target. So, the particular fletch orientation will help.
1. Straight Fletching.
The fletch is attached without turning, and the three vanes are set straight into the arrow shaft. This particular fletch orientation is suitable for short-distance shooting.
Pros:
Provides faster flying vane configuration
It provides a lesser amount to air resistant
It gives more secondary fletching clearance
Cons:
Less stable if shoot at a long distance
Less stable for broadheads
Best used in well-turned bows
2. Offset fletching
Shooting the arrow will be like a bullet released from a riffle that rotates as it releases. The vanes are applied straight with the arrow shaft but turned slightly offset from front to back without twisting the vanes. The rotation provides stability with the broadhead weight.
Pros:
Better broadhead stabilization
Minimum air resistance when in flight
Arrows fly at a consistent speed into an immediate distance
Cons
Needs more clearance
Tiny loss of velocity
3. Helical Fletching
The setup of the vanes is spiral around the shaft. When the arrow is released, it will rotate faster and give higher stability in flight.
Pros
Best broadhead stabilization
Most consistent arrow flight
Increase overall accuracy even on long-distance shooting
It corrects flight attitude issues
Cons
It can be problematic with fletching clearance.
Loss of arrow velocity in flight
Not compatible with containment arrow rests
Materials Used for Fletching
Arrow fletching can be made of different materials. The most common ones are plastic and feathers.
1. Feathers
Historically, feathers are the original materials of fletching. Some archers nowadays also prefer feathers. Feathers are lightweight, so they do not add weight to the arrow. They can fly faster with lesser loss of trajectory downrange.
They work perfectly on stabilizing an arrow with a large broadhead. They are also naturally curved, which would help the arrow spin in flight.
However, they can be a little expensive because they require higher labor costs before becoming effective fletching – harvested, dried, cut, and sorted. Since they are from real animal feathers, manufacturers cannot mass-produce them.
2. Plastic Vanes
This vane is the most popular fletching among archers because of its durability, and they are also resistant to water. When feathers get wet, it will add weight to the arrow, which could affect the shoot's accuracy. It is important to note, especially when hunting on wood during winter or rainy season.
Another characteristic of a plastic vane is that it can go back to shape even when crumpled and abused. If plastic vanes go out of shape, they can easily be heat-treated. They are a low-maintenance choice for an arrow fletching.
What arrow fletching is best?
Helical fletching is the best for most archers because it proves more excellent stability in arrow flight. However, the choice may depend on the shooting distance and the type of arrow rest you used.
Consideration when Choosing Arrow Fletching
In general, the fletching needs to be wider than the diameter of the broadhead to give the arrow balance and not affect the flight.
Here are some of the things that you need to consider:
Shooting Area
When choosing the arrow fletching, you must consider whether you are shooting indoors or outdoors. If you are shooting indoors, you may apply a longer vane. Since there will be lesser wind, you do not have to worry about it dragging your arrow backward.
With indoor shooting, the Helical fletching can ideally correct the arrow flight and keep it in one flight path. And at a short distance of 20 yards, it will be able to fix the arrow in flight much faster.
If you shoot outdoors, expect high wind that may interfere with the arrow in flight. So you have to stick to short and low profile fletching to encourage lesser drag.
Shooting Distance or Range
If you are shooting long distances, you need short, low-profile vanes because it has a longer time to stay in the air, so you might want to avoid creating drag to the arrow.
A vane with a 1.87-inch fletch with helical orientation may be suitable. It will not catch as much drag from the wind, and the spiral setup of the fletching will control the arrow and stay in one path.
When selecting an arrow fletching, you must consider the wind you will encounter when you shoot. Remember that the fletching will create drag as it touches the wind during the flight.
Check out these +600 fletching made of different materials that you can choose from.
What vanes are best for accuracy?
Regarding the popularity of accurate flight with fletching, helical fletching is always the best. However, it would depend on the distance and the area where you are shooting.
Tips when selecting Fletching for Accuracy against Arrow Head
A straight-fletched arrow will suit fine if you are shooting at a 40 yards distance with an expandable broadhead. The expandable broadhead flies on a straight path and won't need much stability.
If you shoot with a fixed blade head, choose Helical or Offset fletching. Because this fixed blade catches subtle air currents, making the arrow more likely to wobble in flight, so they need extra help to stabilize when they fly.
The Offset fletching also works well with field points, expandable and fixed-blade heads. They have lesser curves but allow the arrow to spin enough to be stable in flight.
When selecting fletching, it is essential to note that accuracy does not depend solely on the vanes or feathers you have in your arrow. The shoot's accuracy can be influenced by many factors, including the setup of the bows, draw length, arrow spine, and the archer's skills.
You might have the best arrow fletching, but you will not hit the target if you do not have the correct form for shooting.
Considering Arrow Vane Length for Accuracy
When considering an arrow vane length, you must understand how it affects the arrow flight. Generally, shorter vanes can reduce the steering ability but get less drag.
The longer vanes can correct your arrow in flight much faster. But they create more drag and slow down the archery arrow.
Short Vanes. Shorter vanes work well on arrows that have smaller diameters. They support outdoor shooting at a long-distance range.
Long Vanes. Longer vanes can work with arrows with a larger diameter. They support indoor shooting with a range of 20 to 25 yards.
Considering Arrow Vanes Profile for Accuracy
The vanes profile is the height of the fletching. The vane profiles are high-profile and low-profile vanes.
High-profile vanes
These are the tall vanes. They are great for stability in targets, and hunters commonly use them. They help correct the arrow in flight after releasing it from the bow. However, like long vanes, they also create more drag that slows the archery arrow.
Low profile vanes
Low-profile vanes are suitable for target shooters that are shooting at a long distance.
Considering the Number of Vanes
The number of vanes in a shaft can either be three or four.
Three (3) vanes
This vane is the most common number of vanes. This option provides good stability while minimizing drag. It will allow the arrow to fly faster on a long-distance range.
Four (4) vanes
The 4-vane fletching will stabilize the archery arrow in flight more quickly. This option works great when using a heavier archery arrow or arrows with a heavy broadhead. Archers choose this option if they shoot short to medium distances.
Importance of Fletching
An arrow can fly without fletching. Technically, if the bow is well-tuned, the unfletched arrow will fly the same way or as accurately as the fletched one. However, it may be better as they need something to stabilize them in flight.
Without fletching, the arrow is susceptible to outside forces like wind and others that would likely make them spin or tumble through the air. The flight may also be unpredictable and unstable.
When you shoot the arrow, the spin that the fletching gives allows it to stay in one path and directly to the target. Without fletching, they are more likely to fly off course.
What vanes are best for long distances?
Short and low-profile vanes are ideal for long-distance shooting because they create lesser drag in flight. But some hunters prefer high-profile vanes for stability. So, the choice depends on what shooting style you will use it for and the archer's skills.
Vanes for Long-distances
Plastic Vanes
Plastic vanes are among the most popular and widely used for long-distance shooting. They are made of sturdy, durable materials such as PVC or polyurethane, making them resistant to wear and tear.
Additionally, they are available in different sizes and shapes, allowing you to choose the right vanes that best suit your bow, arrow, and shooting style.
Top Plastic vanes recommendations:
Feather Vanes
Feather vanes are another option for hunters shooting long distances who prioritize speed. Feathers are lightweight and flexible, so they do not add much weight to the arrow.
They provide minimal wind resistance during flight too. Additionally, they are highly customizable, making them an excellent choice for archers who want to create arrows that suit their unique style and preferences.
Top Feather Fetching Recommendation
Arrow fletching plays a vital role in archery. It can significantly impact your performance in the range or the field.
Whether you choose plastic or feather vanes, it's essential to consider your shooting style, bow, arrow, and personal preferences before making a final decision. Experiment with different vanes sizes and shapes to find the combination that provides optimal stability, speed, and accuracy.
Remember that the appropriate vanes can make all the difference when hitting your target, so take your time choosing one.