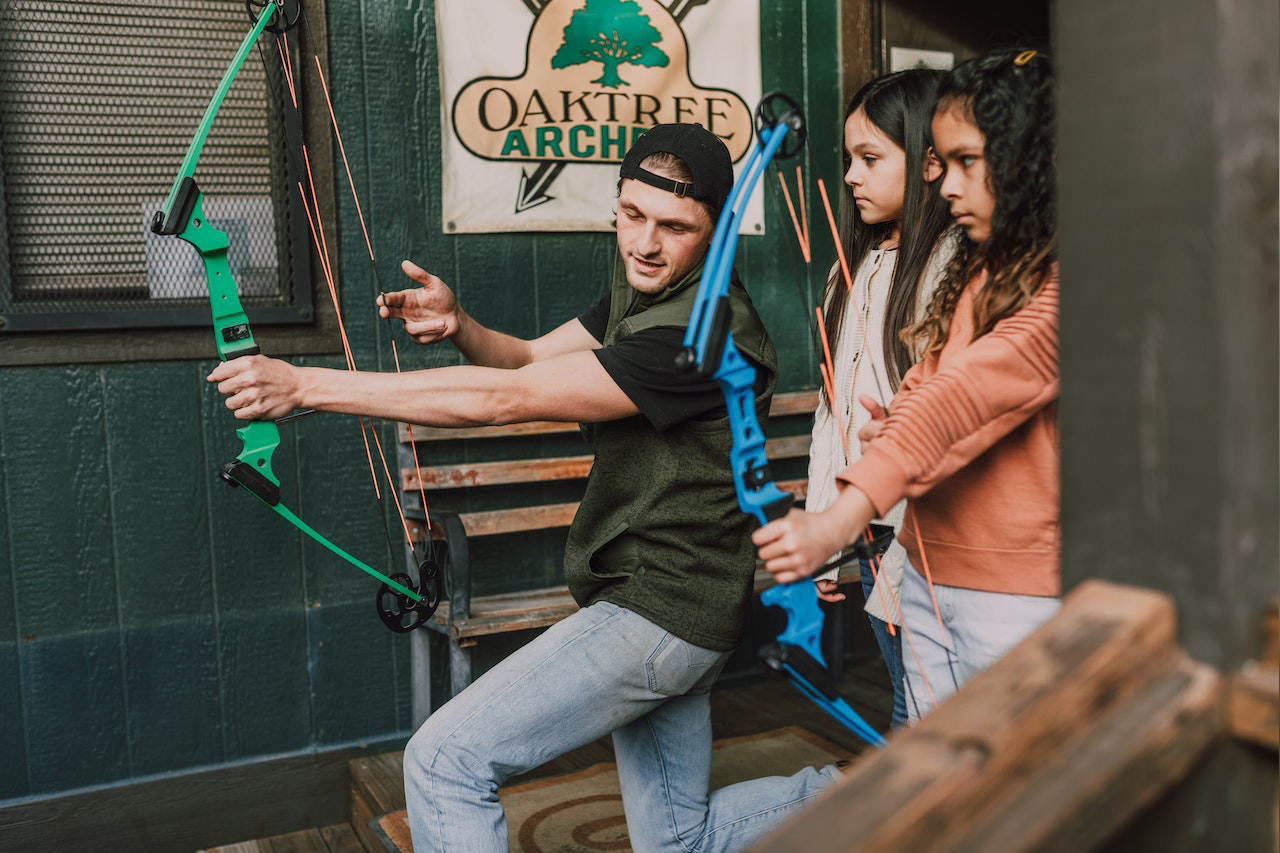 If you have an old compound bow, you are no longer using it. You could sell it, trade it in for a new one, or donate it to an archery program.
If you sell your old compound bow, there are a few things you need to consider.
Research the market and find out what your bow is worth.
Decide how you are going to sell your bow.
Options When Selling the Old Compound Bow
Sell directly to a dealer or manufacturer
One option is to sell your bow directly to a dealer or manufacturer. This advantage is that you will likely get a higher price for your bow, as the dealer or manufacturer can resell it at a profit.
Sell online

Another option is to sell your bow online, either through an online auction site or classifieds site. You may also post it into a standard eCommerce online store. The advantage of this option is that it is usually quicker and easier than selling through a dealer or manufacturer.

Sell Locally

You can also try selling your bow locally through classified ads or word of mouth. The advantage of this option is that you will likely get a higher price for your bow, as the buyer will not have to pay shipping costs.

Whichever option you choose, make sure you take into account all the pros and cons before making a decision. Selling your old compound bow can be a great way to upgrade to a newer model or earn some extra money. Make sure you research and choose the option that is right for you.
Trade for a New Compound Bow
You may go to an archery shop and ask if they take trades. If you are a known customer of the shop, they may be more likely to take it.
You could also look online for a compound bow trader. You may have to pay the shipping to send your old bow to the trader, but you would likely get a better value for your trade by going this route.
Another option is to post an ad on classified websites or forums seeking someone interested in trading for a compound bow. Be sure to be clear about what you are looking for in a trade so there are no misunderstandings.
Donate it to an Archery Program
If you want to donate your old compound bow, you may ask friends or family who are into archery for referrals or recommendations. You may also search online or check for a local archery club in your area.
Contact them when you have found a program and explain that you would like to donate your old bow. Most programs will be happy to take it off your hands.
When donating your old compound bow, you should also include any accessories you may have, such as arrows or a quiver. You may also include a note explaining why you donate the bow.
For example, perhaps you have upgraded to a newer model and no longer have a use for the old one. Whatever the reason, your donation will be appreciated by those who receive it.
Donating your old compound bow is a great way to give back to the sport of archery. It's also an excellent way to declutter your home and make space for new gear.
So, if you're no longer using your old bow, consider donating it to an archery program.
Are older compound bows still good?
If your bow is a year old, it is still good to use. But if it is over a year, you might want to take your time in checking it for parts that might need to replace. You also want to check and see if the limbs are still in good condition, as well as the strings.
Generally, a compound bow lasts for 20 years or over, depending on how well you take care of it. It may be the right time for an upgrade if it is over two years old. But that does not mean you must get rid of your old archery bow. You can always keep it as a backup or even sell it.
To check the condition of your bow, you can take it to a shop and have them check it out for you. But if you know enough about archery bows, you can do this yourself.
Inspecting your Compound Bow
Check the limbs

If your compound bow has been in the storage area for a long time, it should be best to check for cracks or warping in the limbs. You can do this by looking for visual imperfections and checking for unevenness in the draw weight.

If you see any imperfections, it is best to take your bow to a professional for further inspection.

Check the cables and strings

The cables and strings are under a lot of tension when you shoot your bow. So, over time they can start to show wear and tear. Heat can also damage them while in storage.

Inspect them for any fraying or damage; if you see any, it is best to replace them.

To check, you may want to pluck the string like a guitar string. If it sounds "off," it is not a good idea to use it.

Check the cams

The cams are the pulleys that help give your compound bow its power. You want to inspect them for any damage or wear and tear.

Check the cam rotation and also the axles for any damage. If something does not look right, it is best to take your bow to a professional for further inspection.

Check the rest

The rest is where your arrow sits when you are getting ready to shoot. You want to ensure it is not damaged and can still hold your archery arrow. If you see any cracks or damage, it is best to replace the rest.

Check the sight

The sight helps you aim your bow, which is a vital part of the compound bow. So, ensure that it is not loose and that all the screws are tight. Also, check to see if the pins are still in place and not damaged.
Do bows expire?
Bows do not expire, but they may become less effective over time. In some cases, it may even last for a lifetime if well-maintained.
To extend the bow's life, you must take good care of it. It may include storing the bow in a cool, dry place, waxing and lubricating it regularly, and inspecting it for damage.
Taking Care of Compound bow
To make your compound bow last as long as possible, you must take good care of it. Here are some tips you can follow:
Store your Bow

To extend the life of your compound bow, you should store it in a cool, dry place. It will help to prevent the limbs from warping and the string from drying out and breaking.

If you are in an area with high humidity, storing your bow in a climate-controlled room or storage unit is vital.

Wax and Lubricate

Waxing and lubricating the compound bow will help protect it from the elements and keep it working correctly. Wax the bowstring every few weeks with a quality bowstring wax.

It could prevent the string from drying out and breaking. You should also lubricate the bow's limbs and other moving parts with light oil to prevent rust and corrosion.

Inspect Regularly

Inspect your compound bow regularly for any damage. For example, look for cracks in the limbs or other parts of the bow. Examine the bowstring for wear and tear. Repair any damage by a professional before using it again.

Service Every Few Years

Even if you take good care of your compound bow, it will eventually need to be serviced by a professional. Most manufacturers recommend having the bow serviced every two to three years.

It will ensure that all the parts are in good working order and that the bow performs at its best.

Shoot Regularly

Shooting your compound bow more often will help keep it in good shape. If you don't use your bow often, the limbs can become warped, and the string can dry out and break. So, make sure to take your bow out and shoot it regularly.
Other things to consider:
Keep your bows clean

Inspect your arrows and bow for dirt, debris, or other contaminants every time you shoot. Clean them off right away to prevent damage.

Use quality arrows

Cheap arrows are more likely to break and can cause damage to your bow. So, make sure to use quality arrows designed for your specific archery bow.

Don't dry fire your bow

Dry firing is when you shoot an arrow without anything attached to the string, which can damage the bow and void the warranty. So, ensure to only shoot arrows with a string correctly attached.

Keep things tight

You must ensure tight screws on your sight, quiver, and other accessories. Loose screws can make the bow ineffective and may cause damage to your bow.
How much is a used compound bow worth?
The value of a used compound bow depends on several factors, including the brand, model, condition, and accessories. Generally, you can sell a used compound bow for anywhere between 20% to 80% of the original retail price.
When pricing a used compound bow, there are several factors you need to consider to get an accurate estimate. These include:
Brand and Model
The brand and model are factors in determining the value of a used compound bow. Some brands are more popular, and specific models may be more in demand than others.
Generally speaking, the more popular the brand and model, the higher the price.
Condition
The condition of the bow is also an essential factor. An archery bow in pristine condition will be worth more than one that is heavily used and shows signs of wear and tear. Likewise, if it has signs of any damage, it will likely have a lesser value.
Age
The age of the bow can also play a role in determining its value. A newer bow will generally be worth more than an older one simply because it will likely be in better condition and still have all of its original parts.
Accessories
If the compound bow comes with accessories, such as a quiver, sight, or stabilizer, this will also affect the value. However, these items can be expensive to purchase separately, so a bow that includes them will be worth more than one that does not.
Tips for Maximizing the Value of Your Used Compound Bow
If you're looking to sell your used compound bow, you can do a few things to help maximize its value.
Make sure the bow is clean and in good condition. It will go a long way in making it more attractive to potential buyers.
Suppose you include all accessories that come with the bow. The more complete the package, the more value it will have.
Take good care of your bow. The better condition it's in, the higher the price you'll be able to get for it.
Choose a famous brand and model. It will make it easier to find a buyer willing to pay top dollar for your bow.
Do you want to get yourself a new bow? Check these +100 selections of Compound bows.